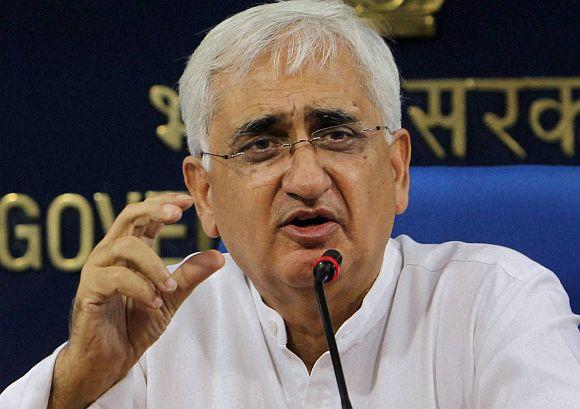 External Affairs Minister Salman Khurshid has questioned the role of the Supreme Court and the Election Commission, making mocking comments about them.
Apparently referring to the Supreme Court judgement disqualifying convicted lawmakers, he called it "a judge-made law", while the "broad philosophical approach" of the Election Commission guidelines appear to be that "you should do or say nothing that wins you an election".
Speaking on the 'Challenges of Democracy in India' at the School of Oriental and African Studies (SOAS) in London on Wednesday night, Khurshid said the Election Commission's Model Code of Conduct made it difficult for parties to win elections.
"The recent instructions that we received from them (EC) interestingly are that our manifesto must be certain that it does not offer the building of roads, because promise of building roads distorts democratic decision-making.

"You should also not offer drinking water because that distorts decision-making," the senior Congress leader said.
Khurshid said the broad philosophical approach, as he understood was that "you should do or say nothing that wins you an election. You should try your best to lose elections. I cheekily said to them we try to lose our elections for five years; give us 15 days in which we can try and win them please".
He described the Commission as "very vigorous and highly respected", which has "cleaned up a lot of the ugly warts of our election process".
"But they are only three of them, with no appeal from them. And three of them can decide what word you can use in an election campaign... That is an interesting area of study on how much Election Commissions can interfere in public discourse," Khurshid said.
Referring to the role of the Supreme Court, he said that "important democratic decisions are being transferred to an unaccountable body of people".
"In India, courts are taking a view on issues that are in democratic theory really an area of Parliament or government to decide. Their explanation is that if you will not be able to act and if you will not address these issues, we will have no choice but take them over," Khurshid said.
"They are also deciding who can now go to Parliament and who can't go to Parliament. This is not law, but judge-made law.
"At least in theory if democracy throws up a wrong kind of person, you can say this is what the people want. But to have an unelected, unaccountable body taking these decisions then becomes a major challenge to Indian democracy," he said.

Khurshid further elaborated on the nature of the decision-making process by the top court.
"Supreme Court judges never sit in benches which have more than two or three judges... generally only two of them sit together and two of the total 31 can decide what should happen... the trouble is when they make mistakes, what do we do," asked the minister, who is in London for the Commonwealth Ministerial Action Group meeting on Friday.
"Judges sit and they say, this is not to happen, that is not to happen and of course, go to the extent of threatening contempt proceedings against officials. Two judges can say anything about Parliamentarians being tried or not being tried, that they'll be allowed to contest or not, what kind of affidavit they have to file, what they can do and so on," Khurshid said.