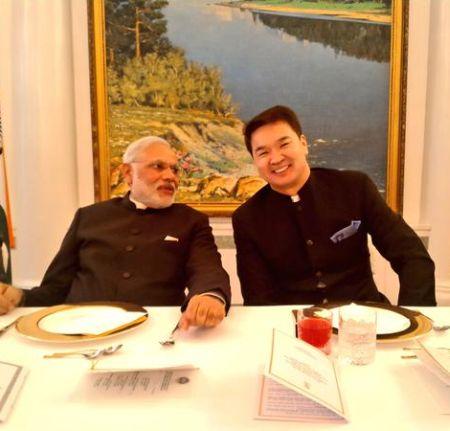 PM Modi with his Mongolian counterpart Chimed Saikhanbileg at the dinner banquet. Don't miss the bandhgala worn by Saikhanbileg. Photograph: @MEA/Twitter

Prime Minister Narendra Modi on Sunday said ties between India and Mongolia are not driven by competition against others but it is a relationship of immeasurable positive energy that comes from their spiritual links and shared ideals.
Modi, while speaking at the banquet hosted in his honour by Mongolian Prime Minister Chimed Saikhanbileg, said the "ancient relationship" between the two countries has got new strength and momentum with his visit, the first by an Indian premier to the country.
"This is a memorable day for India, for my delegation and me. In less than 24 hours, we have experienced true friendship. We have seen rare grace and generosity of a great people. We have experienced the beauty of your land," Modi said at the dinner.
"We have nurtured our spiritual links. The visit to the Ganden monastery will be a source of joy forever. We have soaked in the richness of your culture at the mini-Naadam festival," he said.
After talks between the two premiers, it was announced that India has extended a US $ 1 billion credit line to Mongolia for infrastructure development as they upgraded their ties to "strategic partnership".
"Ours is a relationship that is not measured on the scale of commerce or driven by competition against others. It is a relationship of immeasurable positive energy that comes from our spiritual links and shared ideals," Modi said.
"It is the energy that seeks the well being of our two nations and the common good of the world. This is a form of energy that has enormous power to be the force of peace, progress and prosperity in the world," he said.
Mongolian Premier Saikhanbileg, who wore a bandhgala at the banquet, said, "We Mongolians take immense pride in our long historic and cultural bonds with the people of India."
An all-vegetarian dinner spread was laid out for the Indian delegation including "nine gems" feast, steamed apple and fresh vegetable salad. A musical show also kept the guests entertained at the banquet.
"The importance of a journey is not measured by the distance covered, but by the destination reached. The visit may be short. But, the outcomes are substantive and significant. In the course of one day, we have imparted our ancient relations new strength and momentum," Modi said.
He highlighted that the two countries' political understanding and commitment have become stronger, economic cooperation has scaled new heights and security cooperation has expanded.
"So, as we celebrate 25 years of democracy in Mongolia and 60 years of our diplomatic relations, we know that the best for relationship lies ahead of us," he said.