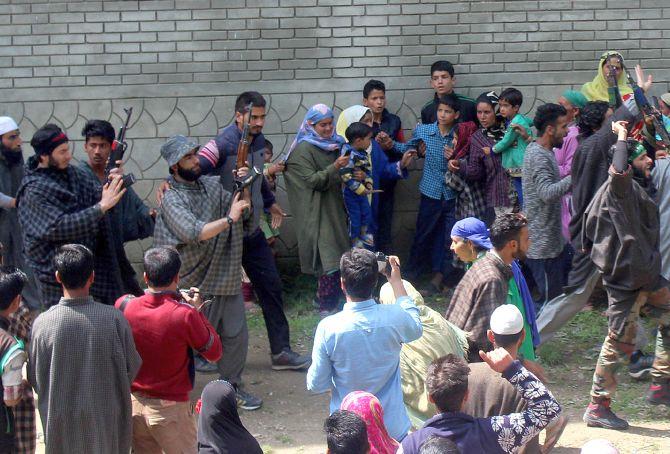 A group of terrorists appeared at the funeral of a slain associate and fired a volley of bullets in the air as a form of "gun salute" in south Kashmir's Kulgam district on Sunday.
The alarming incident occurred during the funeral of Fayaz Ahmed alias Setha, a resident of Qaimoh area of Kulgam, who was killed in retaliation on Saturday after terrorists had fired upon a police party which had gone to Mir Bazaar area to investigate a road accident.
Two civilians and a cop were also killed in the attack on Saturday.
At least four terrorists appeared in the crowd during the funeral and offered "gun salute" to the slain by firing in the air from their AK-assault rifles on Sunday, police officials said.
The incident comes just a couple of days after the security forces carried out a major combing operation in the neighbouring Shopian district to flush out terrorists.
According to police officials, there have been quite some instances of terrorists appearing at the funerals of slain associates in recent times in what appears to have taken the shape of a disturbing trend.
Image: Terrorists fire a volley of bullets in the air as a form of "gun salute" in tribute to Fayaz Ahmed alias Setha. Photograph: Umar Ganie