"We stand with you in your efforts to build a future that accommodates the aspirations of all sections of society, including the Sri Lankan Tamil community, for a life of equality, justice, peace and dignity," says PM in Colombo. G Sudhakar Nair/PTI reports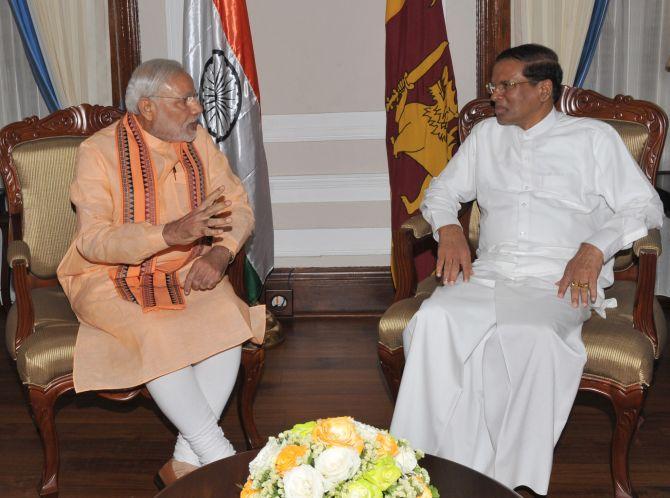 Prime Minister Narendra Modi and Sri Lankan President Maithripala Sirisena hold one-on-one talks in Colombo

India and Sri Lanka on Friday signed four agreements during Narendra Modi's maiden visit to the country, the first bilateral tour by an Indian premier in 28 years, with the prime minister announcing a slew of measures aimed at resetting ties with the strategic neighbour.
Prime Minister Modi, who arrived in Colombo on Friday morning on the final stop of his three-nation tour of Indian Ocean island nations, met Lankan President Maithripala Sirisena and discussed bilateral and issues of regional importance.
"I am conscious of the significance of this visit. This is the first stand alone bilateral visit by an Indian prime minister since 1987," Modi said at a joint press meet with Sirisena, who was in India last month on his first foreign trip after assuming office in January.
The PM said his meeting with Sirisena has been very productive. It "gives me confidence and optimism about the future of our relations," Modi said.
The two sides signed four agreements on visa, customs, youth development and building Rabindranath Tagore memorial in Sri Lanka. "The agreement on cooperation between our customs authorities is a step in that direction. It will simplify trade and reduce non-tariff barriers on both sides," he said.
Modi said the progress made by two countries reflects "our shared commitment to stronger economic cooperation".
"Our trade has seen impressive growth over the past decade. I am aware of your concerns about trade with India. As I said in Delhi, we will try and address them," he said.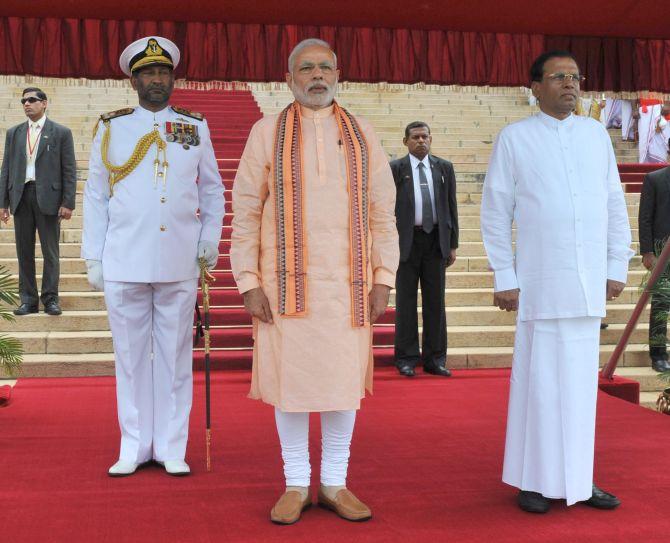 Modi and Sirisena at the ceremonial reception in Colombo. Photograph: PIB

Modi said India stands ready to help Trincomalee become a petroleum hub and announced that New Delhi will provide a fresh Line of Credit of up to $318 million for the railways sector in Lanka. "This will be used to procure rolling stock, and to restore and upgrade existing railway track," he said.
The prime minister also said that the Reserve Bank of India and the Central Bank of Sri Lanka have agreed to enter into a Currency Swap Agreement of $1.5 billion to help keep the Sri Lankan rupee stable.
He lauded the efforts of newly elected President Sirisena and assured him of all help from India. "We stand with you in your efforts to build a future that accommodates the aspirations of all sections of society, including the Sri Lankan Tamil community, for a life of equality, justice, peace and dignity in a united Sri Lanka."
"We believe that early and full implementation of the 13th Amendment and going beyond it would contribute to this process," said Modi, who is in Colombo as part of his three-nation tour of Indian Ocean island nations that took him to Seychelles and Mauritius.