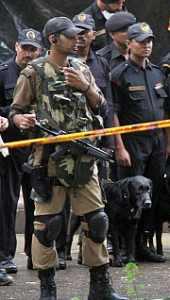 Amidst a growing clamour for getting VIP security in the country, External Affairs Minister Salman Khurshid on Sunday disfavoured such an approach as he said that he himself does not keep such paraphernalia.

Khurshid who was officiating as the chief guest for the Raising Day celebrations of the paramilitary Central Industrial Security Force in Ghaziabad, however, did not elaborate on how such an arrangement could be made.
"You should work towards discouraging people from asking for security," he said, adding that he himself does not have any such special arrangement.
Khurshid, Congress MP from Uttar Pradesh's Farrukhabad, was asked if enhancing the security cover to more VIPs was necessary.
In recent days, more politicians are getting 'Z-plus' security and the new entrants include Union Steel Minister Beni Prasad Verma and Bahujan Samaj Party MP Brajesh Pathak months after the list of VIPs in this category was pruned during P Chidambaram's tenure as home minister.
Delhi has the highest number of security personnel on VIP-guarding duties in the country after Punjab and more than a dozen policemen guard each of the 427 VIPs, who are being given security in the national capital.
According to the 'Data on Police Organisations in India-2012', prepared by the Bureau of Police Research and Development, while there is one policeman in Delhi for every 253 common citizens, there are 5,183 policemen deployed for giving protection to 427 high-profile people in the city.
CISF chief Rajiv, during his speech at the 44th Raising Day, said the force will be happy to get more responsibilities of guarding Indian missions abroad. It guards the Indian mission in Nepal at present while few other embassies and missions are under the security cover of other central security forces.
Khurshid, in reply to this demand, said that his ministry would surely look forward in using the force to its best capabilities. "I am very impressed with their (CISF) work and we would look at increasing CISF's contribution in many more places...we will look at all possibilities," the minister said.
The CISF, a 1.34 lakh personnel strong central force, guards vital installations in the nuclear and aerospace domain and also guards country's 59 civil airports.