Lok Janshakti Party (Ram Vilas) chief Chirag Paswan on Monday demanded a thorough probe regarding the alleged attack on Bihar migrant workers and bring the culprits to book, and ensure a hospitable atmosphere for the workforce in Tamil Nadu.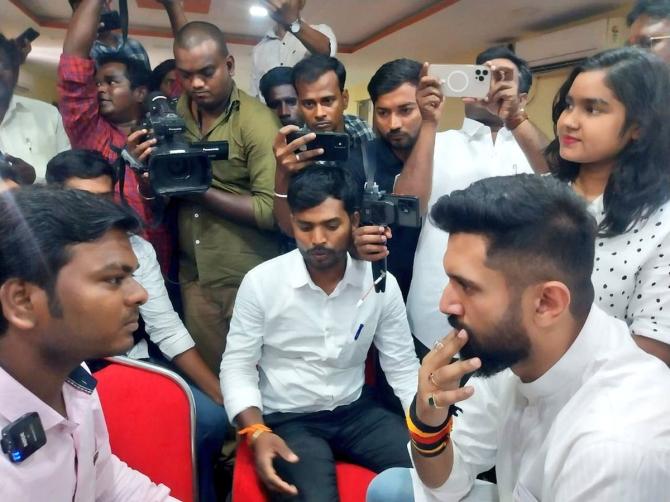 The present crisis would not have occurred had Bihar Chief Minister Nitish Kumar worked for the betterment and development of the state. People would not have gone out of Bihar in search of employment, he claimed.
"I am not here to politicise the issue or blame anyone. If the videos on the attack on the Bihari guest workers are untrue, then who has spread the rumours and trying to divide the people and the country on lingual basis? Those responsible for the attacks, if they had happened, or those spreading the rumours should be put behind bars," Paswan told reporters in Chennai.
The Lok Sabha MP from Jamui said his visit to Tamil Nadu was specifically to express solidarity with the guest workers and to submit a memorandum on the issue to Governor R N Ravi.
"I am hearing about the atrocities on Bihar workers, been receiving phone calls and messages, too, saying they are being targeted in Coimbatore and other parts of Tamil Nadu. The truth on this should be exposed," Paswan added.
India did not have a concept of dual citizenship and people were free to work anywhere in the country, the MP said. "If the attack is mere rumours, then who is spreading it and what's their intention? They should be identified and punished," he demanded.
Both he and his father, late Ram Vilas Paswan, have been visiting the state on several occasions and had fond memories but this sort of alleged attacks by some vested interest who want to divide the people in the name of language and geography, was disturbing, the LJP chief said.
"That's why I insist that this issue should be probed thoroughly. I am willing to give names and phone numbers of all those who called me and conveyed their apprehensions," Paswan added.
"The present crisis being faced by my people is because my Chief Minister Nitish Kumar failed to work for the betterment and development of the State. People had to migrate due to lack of employment opportunities in Bihar," he said.
The Bihar chief minister gave a clean chit and then sent a team of officials to Tamil Nadu to ascertain the incidents of attacks. "My belief is that the people of my state are disturbed," the MP said before his meeting with the governor.
He interacted with the Bihar migrant workers living in Tamil Nadu.
The police in TN filed cases under Indian Penal Code Sections 153, 153A (1) (b) and 505 (1) (c) against BJP state chief K Annamalai for posting "provocative" tweets and social media statements about unsubstantiated allegations of attacks on migrant labourers from the north and related fake videos.
Responding to it, Annamalai said in a tweet: "I understand DMK has filed cases against me for exposing their 7-decade propaganda against north Indian brothers. So, here is the video of what they spoke, which was mentioned in my press release yesterday. I challenge fascist DMK to arrest me."
© Copyright 2023 PTI. All rights reserved. Republication or redistribution of PTI content, including by framing or similar means, is expressly prohibited without the prior written consent.