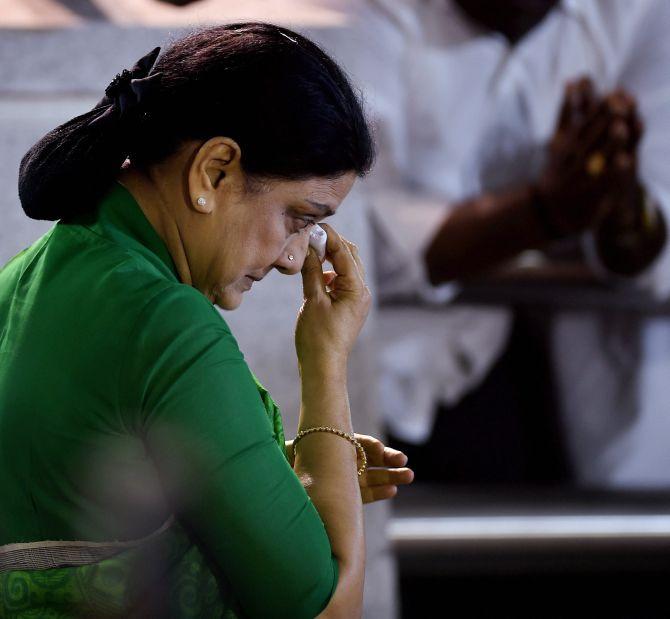 Away from the cozy confines of the Poes Garden residence, the harsh reality of a life as an ordinary prisoner is sinking in for All India Anna Dravida Munnetra Kazhagam general secretary VK Sasikala.
Sasikala shares 10 feet by 8 feet cell, with a bathroom separated by a wall, with her sister-in-law Illavarasi. Both of them have been issued a plate, tumbler, and blanket each for personal use.
Sasikala's closest inmate in Bengaluru jail -- KD Kempamma better known as Cyanide Mallika. The 46-year-old Cyanide Mallika is known as the first lady serial killer of India.
Cyanide Mallika is a self-confessed fan of late Tamil Nadu Chief Minister Jayalalithaa. Cyanide Mallika had expressed her wish to meet Jayalalithaa, when the late CM was lodged in Bengaluru jail in 2014.
Bangalore Mirror reports that Cyanide Mallika tried to say hello to Sasikala on the first evening but Sasikala ignored her overtures. However, she did smile back the next morning.
KD Kempamma is serving life term for killing seven women by giving them cyanide capsule in temples. Her motive had been to decamp with gold jewelries that unsuspecting victims wore.
Cyanide Mallika killed all those women in various temples between 1999 and 2007.