Terrorists on Sunday shot dead a 40-year-old Kashmiri Pandit man in Jammu and Kashmir's Pulwama district while he was on his way to a local market, in yet another targeted killing of a minority community member in the valley.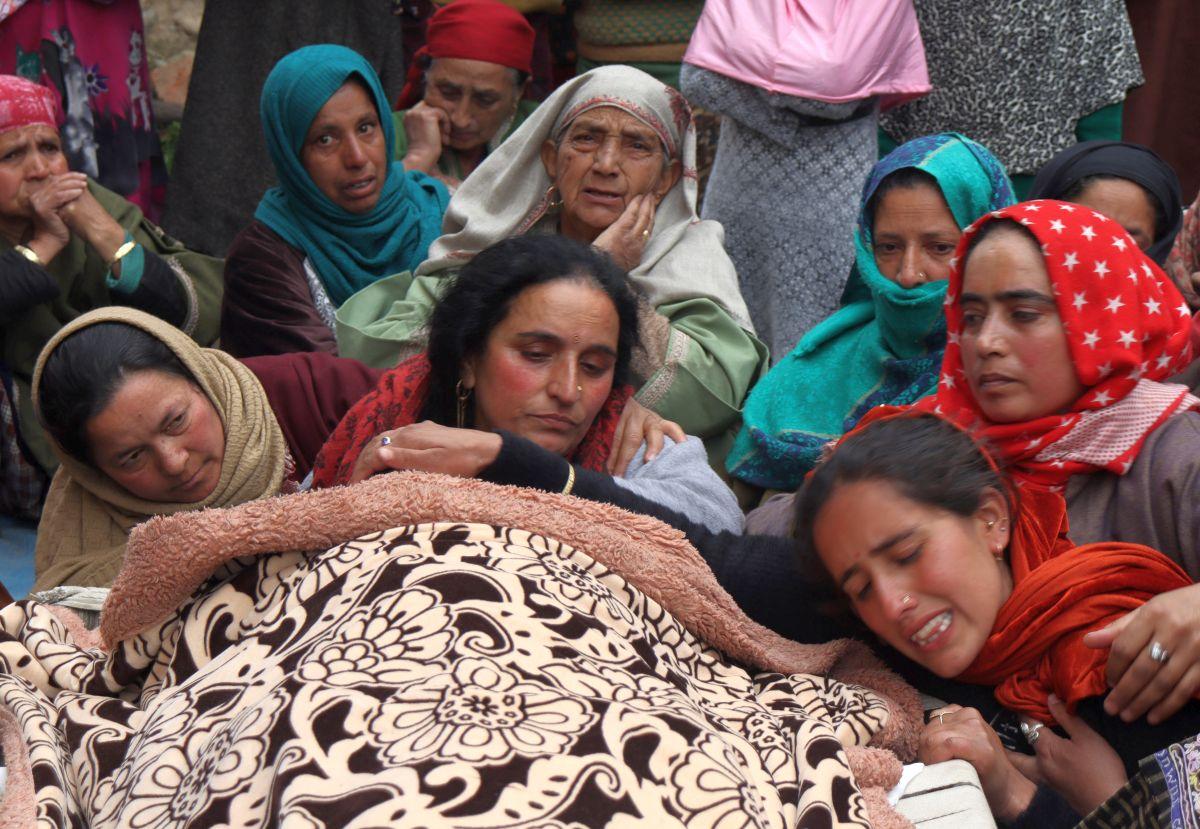 Sanjay Sharma, who worked as an ATM guard, was shot in the chest at point-blank range barely 100 metres from his residence in the Achan area of the south Kashmir district at around 11 am, police said, adding he was rushed to a hospital by passersby but succumbed to injuries.
He was not reporting to duty of late following an earlier spate of terror attacks on his community members, his colleagues said.
'Terrorists fired upon one civilian from minority namely Sanjay Sharma S/O Kashinath Sharma R/O Achan Pulwama while on way to a local market,' the Kashmir Zone police said on Twitter.
Deputy Inspector General (DIG), South Kashmir Range, Rayees Bhat said it was a 'planned attack'.
He said armed security guards had been placed on duty in the village.
"We had security in place here as well. Under what circumstances this attack took place is a matter of investigation. We will proceed further based on what comes out of these investigations," he said.
"We are sifting through the information that we have received so far. The terrorists involved in this crime will be soon tracked down and neutralised.... We will not allow the terrorists to succeed in their evil designs," the DIG said.
It was the first attack on a member of the minority community in Kashmir this year.
Last year, terrorists carried out nearly 30 attacks on civilians, killing 18 persons, including three Kashmiri Pandits, a bank manager from Rajasthan, a woman teacher from Jammu and eight non-local workers.
J-K Lieutenant Governor Manoj Sinha and political parties condemned the killing.
Sinha said the administration has given a free hand to security forces to deal with terrorists.
'My heartfelt condolences to the bereaved family. The administration has given a free hand to the security forces to deal with the terrorists and we will continue to combat such acts of terrorism firmly and decisively,' the LG said.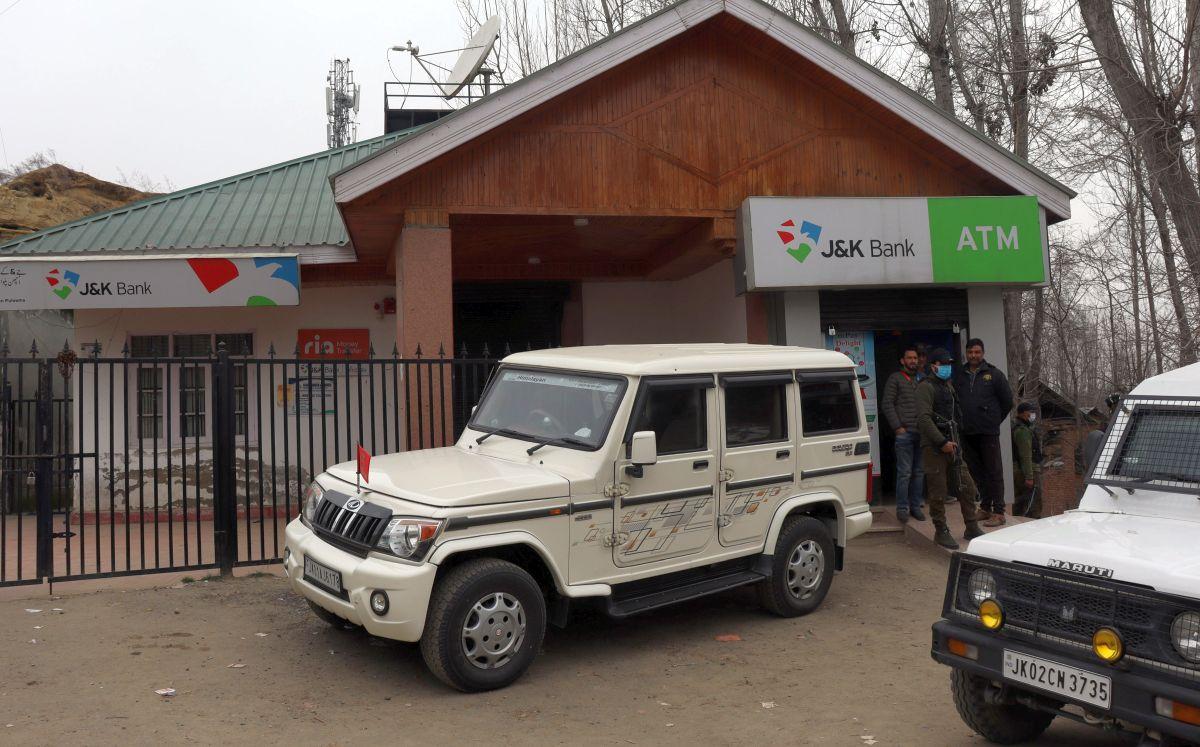 However, National Conference president Farooq Abdullah said the barbaric killing raises questions on the security apparatus and the law and order situation in the valley.
"I am deeply saddened to know about the barbaric killing of Sanjay ji. The bereaved family has my deepest sympathies and unwavering support. Words of condemnation and condolence ring hollow as do the assurances of the government on safeguarding the lives of people. This killing yet again raises the troubling question on security apparatus, law and order situation in the Valley," Abdullah said.
NC's vice president and former J-K chief minister Omar Abdullah also condemned the killing.
'Deeply saddened... Sanjay was working as a bank security guard and was killed in a militant attack earlier today. I unequivocally condemn this attack and send my condolences to his loved ones,' Omar Abdullah said in a tweet.
People's Democratic Party (PDP) chief Mehbooba Mufti accused the Bharatiya Janata Party-led Centre of failing to protect Kashmiri Pandits. The former Jammu and Kashmir chief minister also hit out at the perpetrators of the attack.
Talking to reporters in Anantnag, she said, "A few days ago, right-wing terrorists killed two Muslims in Rajasthan. Today, you have killed a Hindu. What is the difference between you and them?"
Mufti accused the BJP government of endangering the lives of minorities in Kashmir while projecting a picture of normalcy in the valley.
"Any killing, especially target killing, is a matter of grave concern and condemnable. We condemn it," former chief minister Ghulam Nabi Azad said.
Azad appealed to the government to make security and other agencies answerable for such killings.
BJP J-K General Secretary (Organisation) Ashok Koul said the government must strengthen the security grid to nab the culprits behind the attack and punish them.
Jammu and Kashmir Pradesh Congress Committee termed it an act of cowardice.
The perpetrators of this heinous crime must be identified and given exemplary punishment.
Bloodshed and killing of innocent people are highly condemnable and deserve strong condemnation by every section of the people, the JKPCC said in a statement.
'Condemning in no uncertain terms the killing of Sanjay Pandith in Pulwama. The unfortunate incident has again raised the spectre of last year's despicable targeted killings in the Valley. Sharing the pain and grief of the bereaved family,' Communist Party of India-Marxist leader M Y Tarigami said in a tweet.
Apni Party president Altaf Bukhari described the attack as barbaric and heinous.
Terribly sad over the barbaric terror attack consuming the life of Sanjay Sharma, a Kashmiri Pandit brother.
Such heinous acts have only left trails of death & suffering. I condemn this unequivocally. My condolences to the family, he said on Twitter.
'I wonder what these thugs will achieve. Killing innocents who chose to stay back or come back suits only the worst enemies of Kashmiris. My prayers with family of Mr Sanjay,' People's Conference chief Sajad Lone wrote on Twitter.
© Copyright 2023 PTI. All rights reserved. Republication or redistribution of PTI content, including by framing or similar means, is expressly prohibited without the prior written consent.