'Devyani represents some of the best things about the Indian mission -- our ambassadors of soft power. Young, humane, open to ideas with a deep commitment to her country and the work she does.'
Political analyst, human rights lawyer and writer Suchitra Vijayan on the Devyani Khobragade she knows.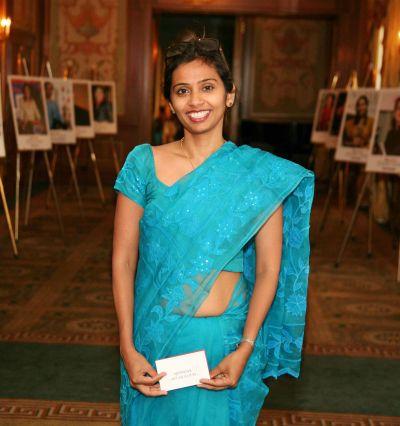 I met Devyani early this year at a dinner following a book reading at Columbia. We were seated next to each other and soon started talking about Afghanistan and Pakistan.
Devyani had previously spent time in Pakistan. It was a matter of time before we realised that we had common friends from my time in Kabul.
She was genuinely engaged and curious. She asked incisive questions and it was obvious early on that this was someone deeply invested in the future of the region.
It was towards the end of the dinner when I was about to leave that I knew she was India's acting consul general in New York.
I was pleasantly surprised. She had none of the airs of self importance or stuffiness of the bureaucracy that Indians are notorious for. I walked away thinking she was nice.
We met soon after for coffee. That turned out to be a three hour-long conversation about politics, life, love, relationships, dreams and aspirations.
Devyani was easy to talk to and relate to. That is her greatest strength. She makes genuine conversations possible. Perhaps this is because she is open and honest about her own life.
We met often and soon forged a friendship. Over the course of the year, the Devyani I have gotten to know is not the one you have read about in the newspapers.
She has been portrayed in a way that seems alien to everyone who has ever meet her, worked with her and gotten to know her.
She is no different than the thousands of hardworking, talented, working mothers who straddle a professional life and career.
She works seven days most weeks, drops her kids at school taking the subway, and between hectic work commitments makes time for friends and family.
Devyani represents some of the best things about the Indian mission -- our ambassadors of soft power. Young, humane, open to ideas with a deep commitment to her country and the work she does.
She is a talented, hardworking diplomat who is diligent, affable and generous.
Her work means the world to her. She strongly believes that India is important to the world and that in return the best opportunities for the world lies in India.
She is a medical doctor, a Dalit women in a predominantly male foreign service cadre.
Her incredible success is a result of her work, who she is and the path she has forged for herself.
Her politics is one that is inclusive, to make opportunities and possibilities available to a wide group of Indians.
I have seen this happen over and over again in the time that I have known her. One simply has to ask the hundreds, if not the thousands, who have met her in the last decade of her work as a diplomat to vouch for these acts.
The utter vitriol on social media and newspapers has been disheartening.
One article callously mentioned how she had picked up the 'women's rights advocate' tag. Another in the name of analysis wrongly called her incompetent and unfit.
Most headlines make a mockery of her beliefs by stating how she was a women's rights advocate who has erred. Others claimed wrongly that she was involved in trafficking and mistreatment.
These go to show a deep lack of acquaintance with who she is, deep-seated prejudice and envy that rears its ugly head in social media.
In a single headline her years of work advocating for women has been tarnished.
In a world full of women of success who pay lip service to women's rights, but remain deeply territorial and unhelpful to other women, Devyani Khobragade is an exception.
You won't see her mouthing feminist discourse, but doing things that are important.
Her philosophy is simple -- pay it forward, share opportunities and if there is the least you can do to help, you make sure that you always do so.
I was woken to the news of her arrest whilst I was in Turkey. My initial response was one of shock and disbelief.
When more news started pouring in and I heard that she was handcuffed and arrested outside her children's school, I was deeply saddened and concerned for her children. All I could think about was their faces and the terrible aftermath.
How could someone not understand the stigma of social shaming on young children? There was no requirement to orchestrate the arrest in front of her children's school.
Probity in public life remains paramount and the law must execute its mandate. These are serious allegations, not to be tried in the court of public opinion or by journalism of outrage.
These allegations could have been dealt with in a manner that fits her position as a diplomat and the crime.
The basic mores of legal proportionality was violated. Handcuffing is only used when there are grounds for restraint and no reasonable grounds for the use of handcuffs was produced.
The theatrics of the arrest and the press conference that coincided are gross overreach of judicial authority and is unacceptable. It takes little to sully someone's reputation and years to build one.
However this plays out, the Devyani we have all come to know will weather it with dignity.
This episode has caused her and her family deep pain and I can only hope the semblance of normalcy returns soon.
This is not a defence of Devyani, she does not require one. But this is to tell you about the person behind the headlines, one you haven't met.
I am re-stating what a common friend said. I am writing this as a friend. Knowing well that if I was in need, she would do the same.
Suchitra Vijayan is a graduate of Yale in international relations. A political analyst, human rights lawyer and writer, she has conceived the 'Borderlands' project where she will travel to India's borders in the west, northeast and east to tell the stories of the people living in remote regions along the Indian borders.
Image: Dr Devyani Khobragade at the India Abroad Person of the Year event in June. Photograph: Paresh Gandhi/Rediff.com