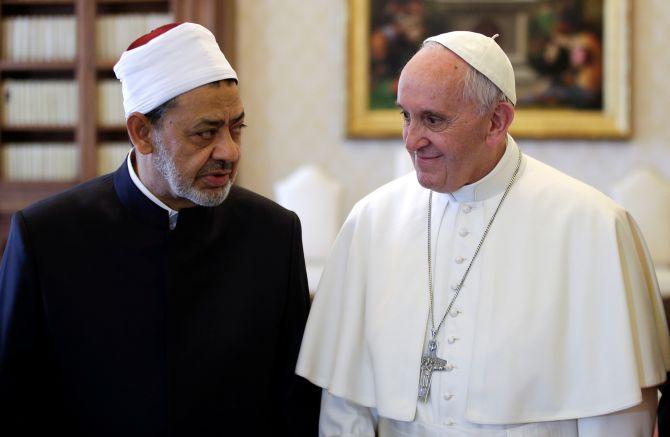 IMAGE: Pope Francis talks with Sheikh Ahmed Mohamed el-Tayeb at the Vatican. Photograph: Max Rossi/Reuters
In a historic moment, Pope Francis met the grand imam of Cairo's Al-Azhar Mosque at the Vatican on Monday and exchanged hugs and kisses.
This is the first Vatican meeting between the leader of the world's Catholics and the highest authority in Sunni Islam.
"Our meeting is the message," Francis said in a brief comment at the start of his meeting with Sheikh Ahmed al-Tayeb, AFP reported.
The meeting lasted around 30 minutes, the Vatican said in a statement after the talks. In all, the imam spent just over an hour at St Peter's.
In a statement on the trip, Al-Azhar said Tayeb had accepted Francis's invitation in order to "explore efforts to spread peace and co-existence."
Tayeb's decision to fly to Rome, unexpectedly announced last week, followed the easing of serious tensions that marked the reign of Francis's predecessor, Benedict XVI.
Monday's visit was effectively the long-delayed reciprocal meeting and the Vatican said that both clerics had "underlined the great significance of this new meeting".
"The pope and the imam had mainly addressed the common challenges faced by the authorities and faithful of the major religions of the world," said Vatican spokesman Federico Lombardi in a statement.
"These included working together for world peace, rejecting violence and terrorism, and the situation and protection of Christians against a backdrop of conflict and terrorism in the Middle East," the statement further added.
The pope presented the imam with a copy of his recent encyclical, Laudato Si', a letter to the faithful in which he urges the world to wake up to the threat posed by climate change and also calls for a rebalancing of the economic relationship between the industrialised and developing worlds.
Tayeb decided to accept the invitation to Rome as a result of the numerous conciliatory gestures Francis has made to the Muslim world since being elected in early 2013.
"If it were not for these good positions the meeting would not be happening," imam's deputy Abbas Shuman said.