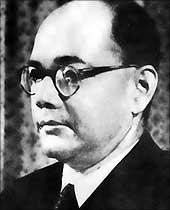 American intelligence agency Central Intelligence Agency had cast doubt on the reported death of Subhas Chandra Bose in a plane crash in 1945 and was tipped off that Netaji would return from exile in 1964, according to declassified documents.
"A search of our files indicates that there is no information available regarding subject's death that would shed any light on the reliability of the reports," documents released by the CIA said.
A document, dated February 1964, released by the CIA said, "There now exists a strong possibility that Bose is leading the rebellious group undermining the current Nehru government."
Four declassified CIA documents were given to researchers Abhishek Bose and Anuj Dhar, besides Netaji's grand-nephew Chandra Bose, who had sought details under the Freedom of Information Act.
In a report dated January 1949, the agency had noted the rumour that Bose was 'still alive'. In a detailed analysis of the Indian political scenario in November 1950, a highly-placed source had informed the CIA that it was being said in New Delhi that Bose "is in Siberia, where he is waiting for a chance to make a big come back.
Among the released documents, the oldest one goes back to May 1946, in which a confirmation of Netaji's death was sought from the secretary of state in WashingtonDC.
"The hold which Bose had over the Indian imagination was tremendous and that if he should return to this country trouble would result," wrote the then American consulate general in Mumbai.
When under house arrest by the Britishers, Netaji had escaped from India in 1941 to seek international support for the freedom struggle. After organising the Indian National Army with Japanese help he went missing in 1945.
He was last seen at the BangkokAirport on August 17 1945. The Mukherjee Commission, probing Bose's disappearance, had rejected that he died in a plane crash in Taiwan on August 18, 1945.
The Prime Minister's Office had earlier refused to furnish data on documents and records it held on Netaji's disappearance, saying the disclosure would harm India's relation with foreign countries.
Family members and researchers on Netaji's life have said that it was time for the Indian government to release the files.
© Copyright 2023 PTI. All rights reserved. Republication or redistribution of PTI content, including by framing or similar means, is expressly prohibited without the prior written consent.