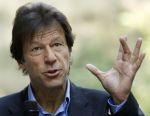 Pakistani cricketer-turned-politician Imran Khan was taken off a New York-bound plane in Toronto and claimed that he was questioned by American officials about his stance on United States drone strikes in Pakistan.
Khan, Chairman of the Pakistan Tehrik-i-Insaf (PTI) party, was questioned for about an hour late on Friday before he was allowed to travel by the US officials.
"I was taken off from plane and interrogated by US Immigration in Canada on my views on drones. My stance is known. Drone attacks must stop," Khan tweeted.
"Missed flight and sad to miss the Fundraising lunch in NY but nothing will change my stance. Still looking forward to meet PTI family there," Khan said.
Khan was headed to New York to attend a fundraiser organised by his party's US chapter in Long Island.
Earlier, Khan had intended to hold a demonstration outside the United Nations headquarters in protest of the US drone strikes on his country's soil.
Meanwhile, president of Khan's party in New York Muzammil Anwar told PTI that the rally was cancelled as it coincided with the festival of Eid and several supporters of Khan had cited their inability to participate in the demonstrations due to the Id celebrations on October 26.
Anwar said Khan along with other party activists were taken off an American Airlines plane and questioned by US officials at Toronto's International Airport.
On being questioned about his stance on drone strikes, Khan repeated his position that the drone strikes were killing innocents Pakistanis and that they were counterproductive, Anwar said.
© Copyright 2022 PTI. All rights reserved. Republication or redistribution of PTI content, including by framing or similar means, is expressly prohibited without the prior written consent.