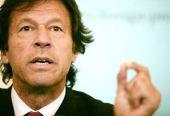 Hundreds of supporters of cricketer-turned-politician Imran Khan on Saturday set off on a motorcade "peace march" to the terrorists-riddled South Waziristan to protest US drone strikes in the tribal belt.
Khan and several key leaders of his Tehrik-e-Insaf party, including former Foreign Minister Shah Mahmood Qureshi, set off in a motorcade of some 130 vehicles from the Islamabad
Motorway on Saturday morning, apparently undeterred by government warnings of possible suicide attacks.
Talking to reporters, Khan claimed there was no threat to his march from the Taliban and only the government was trying to stop it.
The tribes of Waziristan will provide security to the march, which is expected to culminate in Kotkai village of South Waziristan Agency on Sunday, Khan said.
"We are working for peace which is not opposed by anyone. We want a change of the policy in the tribal areas and the path of dialogue should be adopted to usher in peace," he said.
Khan said he would blame only the government and its allies like Jamiat Ulema-e-Islam leader Maulana Fazlur Rehman if the march is stopped.
"Fazlur Rehman is spreading poison about us by calling us agents of Jews and Christians. The government condemns drone strikes but it secretly wants the war on terror to continue as they benefit from it," he said.
"The government's stated policy is to have peace (in the tribal areas) and no drones. They should take advantage of this march instead of stopping it," he added.
In a message posted on Twitter, Khan said: "We have put the issue of drone attacks centre stage globally. Never before has global media focused so much on it."
Cars in the motorcade were festooned with the party's green and red flags and stickers featuring photos of Khan and other leaders.
Some 30 peace activists from the US and other Western countries are also participating in the march.
Media reports said the Khyber-Pakhtunkhwa government had said it would not allow the foreigners to travel to the tribal belt.
People from the garrison city of Rawalpindi and Khyber-Pakhtunkhwa capital Peshawar too joined the march.
Khan will address gatherings at several places, including Mianwali, before the march enters the restive Khyber- Pakhtunkhwa province.
After halting for the night at Dera Ismail Khan, the march will leave for Kotkai tomorrow morning.
A special squad of members of the Pakistan Tehrik-e-Insaf has been formed to provide security to Khan and those participating in the march.
The banned Tehrik-e-Taliban Pakistan on Friday said it had not made any offer to provide security to the march.
Taliban spokesman Ihsanullah Ihsan described Imran Khan and his party as "liberal secular" entities.
Khan and all other Pakistani political leaders were "slaves of the West", he said.
Authorities in northwest Pakistan have said militant groups have sent nine suicide bombers to the area around Kotkai village, where the march will conclude.
These bombers could target those participating in the rally, government sources were quoted as saying by Geo News channel.
Image: Imran Khan
© Copyright 2022 PTI. All rights reserved. Republication or redistribution of PTI content, including by framing or similar means, is expressly prohibited without the prior written consent.