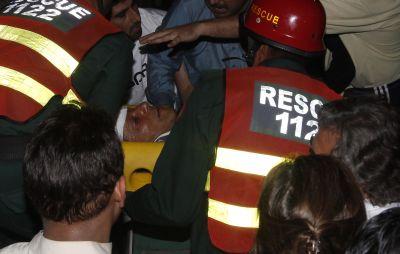 In a freak accident, cricketer-turned-politician Imran Khan was on Tuesday badly hurt and suffered minor fracture in his head when he fell off a forklift that was hoisting him on to a stage during an election campaign meeting in Lahore.
Imran, 60, fell from the forklift along with his security guards from 14-15 feet height after a sudden imbalance of the wood planks on the lifter due to an increase in weight as his security personnel accompanied him towards the stage.
Footage on television showed a dazed Khan, blood streaming from a wound on his head, being carried to a vehicle by several of his supporters.
Tehreek-e-Insaaf Party leader Asad Umer in a twitter message said that the CT Scan results show that Imran has suffered a minor fracture (on his head) and that he will be fine.
The tweet read: "CT scan results show only a minor fracture. IK will be fine inshallah though he is in a lot of pain."
Doctor treating him at Shaukat Khanum hospital said that Imran will remain in the hospital overnight.
Khan was initially transported to Jinnah hospital and was later transferred to Shaukat Khanum hospital, heavily strapped and with his head covered in bandages.
Khan sustained injuries on his head and back, said the hospital sources. According hospital administration Imran received 11 stitches -- 5 to the front and 6 to the back of his head.
Famous singer and PTI leader Abrarul Haq has said the party chief is out of danger and stable now at the hospital. Many others close to the PTI Chairman, including his ex-wife Jemima Khan, confirmed that Khan was out of danger, Dawn News reported.
A few days back, Imran had also fainted while addressing a rally in Punjab and doctors had advised him rest as he was suffering from exhaustion and stress.
Imran's main political rival in this week's general elections Nawaz Sharif, head of the PML N, was quick to issue a statement expressing his grief at the incident and praying for his quick recovery.
Addressing a rally at Rawalpindi's Liaquat Bagh, he announced to cancel his election campaigning for Wednesday over the incident.
Imran's Tehreek-e-Insaaf Party has emerged as a strong party in the May 11 general elections offering strong competition to the PML-N and the PPP.
BBC journalist Lyse Doucet tweeted saying: Imran Khan being kept in hospital under observation for now.
Journalist, artist and filmmaker Beena Sarwar in her tweet said, according to doctors treating @ImranKhanPTI at Shaukat Khanum Hospital' he is out of danger
Novelist and journalist Mirza Waheed also tweeted saying: @PTIofficial: Chairman @ImranKhanPTI is stable, alert, awake and conscious - other scans going on.
Photograph: Rescue workers carry injured Pakistani cricketer-turned-politician Imran Khan after he fell from a makeshift elevator during his election campaign rally in Lahore.
Credit: Mohsin Raza/Reuters