Imran Khan has torn into Pakistan's Army chief General Asim Munir and blamed him for his "abduction" after a court in Islamabad set the former prime minister free and barred his re-arrest in any case until Monday.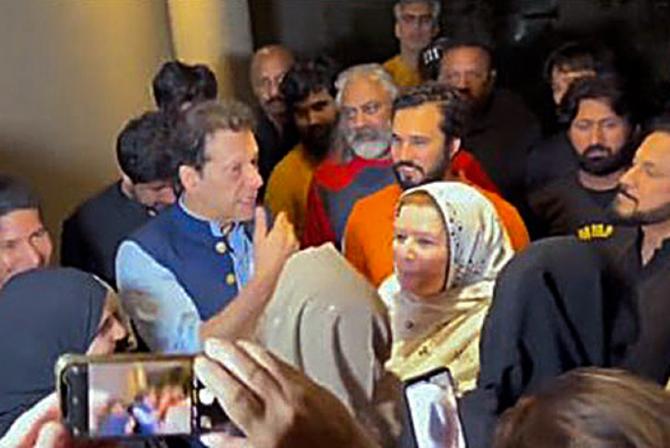 A triumphant Khan returned to his Lahore home on Saturday after having locked himself in the Islamabad high court premises for hours for fear of re-arrest despite being granted bail on Friday.
Before leaving for Lahore, the 70-year-old Pakistan Tehreek-e-Insaf chief hit out at the imported government for kidnapping him despite the IHC granting him bail in all cases.
"They have kidnapped me and forcibly kept me here. I want to tell the whole nation that it is their bad intention, they want to do something again and the whole nation should ready itself to protest," he said.
After spending nearly 11 hours on the IHC premises, the ex-premier, clad in a sky blue shalwar kameez and a dark blue waistcoat, finally left the federal capital without addressing charged PTI workers who remained on the streets throughout the day.
Earlier, he interacted with media persons during the break time on the premises of the IHC on Friday, the Dawn newspaper reported on Saturday.
When asked about the impression that security agencies were against him whereas the judiciary was favouring him, Khan told a BBC correspondent: It's not the security agencies. It's one man, the Army chief." "There is no democracy in the Army. The Army is getting maligned with what is happening .
"And he (the army chief) is worried that if I come to power, I will de-notify him...All this is happening is direct orders from him. He is the one who is convinced that if I win, he will be de-notified," alleged Khan.
In a major relief to Khan, the IHC on Friday granted him protective bail for two weeks in a corruption case and barred the authorities from arresting the former Pakistan prime minister in any case registered anywhere in the country until Monday.
Three different benches of the IHC granted relief to Khan who was escorted to the court amid tight security.
Khan was arrested by paramilitary Rangers from the Islamabad high court while he was undergoing a biometric process before a court hearing in a corruption case.
The ex-premier also talked about the victimisation of his party by the government, alleging that 5,000 people have been arrested during the last one year .
He said he had survived two assassination attempts and had only called for an investigation, regretting that his demand had been rejected.
When another journalist asked Khan about getting relief from the Supreme Court which had never been provided to any other politician, the PTI chief said it could not be called a relief when he was still sitting in the court.
I am sitting in the Islamabad high court. They had no justification to arrest me. I was abducted. They showed me a warrant for the first time after taking me to jail. This happens only where there is a law of the jungle and where the Army abducts [people]," he said.
Where is the law? Where are the police? It seems that martial law has been declared [in the country], he said on Friday.
Later on Saturday when he reached his Zaman Park residence in Lahore, Khan was greeted by a number of jubilant PTI workers who showered rose petals on his vehicle, danced to the tune of drums and conducted massive fireworks.
They also chanted slogans in favour of Khan and against the ruling PML-N-led coalition.
The PTI released a video of Khan entering the house where his sisters and other family members welcomed him and inquired about his health.
Khan, who is demanding snap general elections, is facing over 120 cases across the country.
"Islamabad inspector general of police Akbar Nasir tried his best to retain me at the capital's high court. They did not let us leave for three hours, saying that it's dangerous outside," Khan said in a video message from his vehicle in which he was travelling back to Lahore.
He said he told the IG that he would tell the entire Pakistan that he was kidnapping him and upon this he let him go.
"Imran Khan did not cooperate with us for security arrangements, thus he is responsible for his actions. If anything happens to him (Khan) the state institutions will not be responsible," Islamabad police said in a statement.
On Friday, Inter-Services Public Relations director General Major General Ahmed Sharif Chaudhry said that the army was united despite internal miscreants and external enemies.
The dream of dividing the Pakistan Army will remain a dream, the Army is united under the leadership of Army Chief General Asim Munir and will remain united, the military spokesman said.
Pakistan Prime Minister Shehbaz Sharif slammed Khan for criticising Army chief Munir, saying Khan's "statement about the Army chief is a reflection of his diseased & obsessive mindset".
"As DG ISI, Gen Asim Munir unearthed the corruption syndicate of Niazi & that is why he has been maligning the COAS from day one. It is also his admission of masterminding the tragic and disgraceful incidents of terrorism undertaken by PTI goons at his behest," he tweeted on Saturday.
"The desecration of the martyrs' monuments & attack on the national installations represent an unimaginable low in our politics. The nation stands behind its armed forces & will thwart any nefarious attempts at undermining them," Sharif said.
He said he has given law enforcement apparatus 72 hours to arrest all those involved in facilitating, abetting and perpetrating the "disgraceful incidents of arson, ransacking, sabotage & damaging public & private properties".
"All available resources including technological aid & intelligence are being deployed to chase down these elements. Bringing these people to justice is a test case for the government. Their cases will be tried by the anti-terrorism courts," Sharif said.
The arrest of Khan on Tuesday by the Pakistan Rangers at the IHC premises triggered unrest in Pakistan that continued till Friday and led to several deaths and dozens of military and state installations being destroyed by the protesters.
For the first time in Pakistan's history, the protesters stormed the army headquarters in Rawalpindi and also torched a corps commander's house in Lahore.
The police put the death toll in violent clashes to 10 while Khan's party claims 40 of its workers lost their lives in the firing by security personnel.
Khan was ousted from power in April last year after losing a no-confidence vote in his leadership, which he alleged was part of a US-led conspiracy targeting him because of his independent foreign policy decisions on Russia, China and Afghanistan.