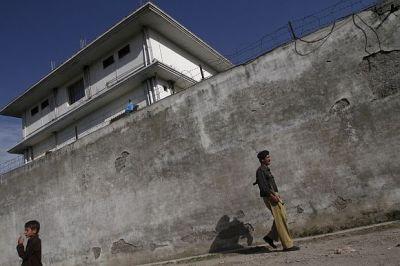 With the world's most wanted terrorist Osama bin Laden spending several years in a mansion in Abbottabad, it is impossible to believe that none in Pakistan's security establishment knew about this hideout of the Al-Qaeda chief, according to a former CIA official.
This is what CIA's former Acting Director Michael Morrell told the then ISI chief General Ahmad Shuja Pasha when they met in Rawalpindi a few months after the American raid that killed Osama in May 2011, according to a book written by the former top intelligence official.
"I told Pasha that while I knew that neither he nor the most senior officials in Pakistan had been aware of Bin Ladin's presence in Abbottabad, it was impossible to dismiss the notion that some Pakistani security officials at some level might have been aware of his presence," Morell writes in his book 'The Great War of Our Time: The CIA's Fight Against Terrorism -- From Al Qa'eda to ISIS' that hit the stores today.
"Americans find it hard to believe that no one in your Abbottabad detachment or in the Abbottabad police ever questioned what was going in that compound," he told Pasha.
During the meeting, Pasha explained to him that the US and particularly CIA had deeply embarrassed Pakistan.
"I clearly understood this. He explained that the embarrassment was twofold: one, embarrassment for his service because it had not found Bin Laden, and two, embarrassment for the Pakistani military because it could do nothing to stop such a raid deep in its country," he writes.
"Pasha said that if one of the US' allies conducted a military raid in the US, killing a fugitive and hauling his body away, we would be livid -- and rightly so," he recalls.
During the meeting, Morrell told Pasha that he hoped he understood American position.
"I explained to him that we had found the most wanted man in the world living less than a mile away from their military academy -- a place where he had apparently resided for years, despite years of Pakistani officials' arguing that Bin Ladin was not in Pakistan," Morrell writes in the book.
"I reminded Pasha that the US -- including President (Barack) Obama -- had said publicly that if we found Bin Ladin we would come and get him. There had been ample warning," he writes.
"A few months after the Abbottabad raid, we were in my office in Virginia (CIA headquarters) discussing the future of Pakistan and its priorities. Pasha emphasised the absolute importance of Pakistan's staying focused on India, as, he said, 'the Indians have been, are, and will remain an existential threat to the state of Pakistan'. I could not disagree with him more," Morrell says in his book.
"I told Pasha that India was focused on growing its economy and improving the standard of living of its people. India had moved on long ago from a singular focus on Pakistan," Morrell writes.
"I added that Pasha and his government were stuck in a time warp and that while they worried about India, other much more serious threats were emerging around them," he said.
Recalling his conversation, he writes "I told Pasha what is an existential threat to Pakistan is the state of your economy and the growing militancy inside your borders. Look at what is happening across the Arab world."
"Pasha did not respond," Morrell writes.
Photographs: Faisal Mahmood/Reuters