'They call us Punjabis as nashedi (drug addicts). So I also asked him with a smile, 'aaj aap kaunsa kar ke aaye hain (what did you take today). He failed to realise my gesture but only saw me smiling,' Akali leader and Union minister Harsimrat Kaur said.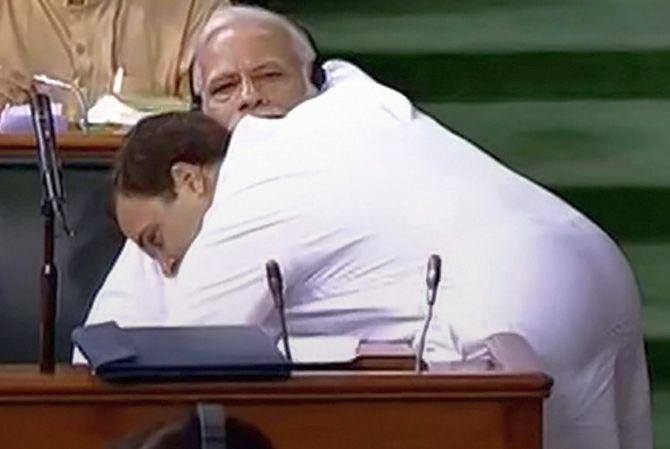 The Bharatiya Janata Party on Friday termed Congress president Rahul Gandhi's hug to Prime Minister Narendra Modi as an 'immature' act and said his speech during the no-confidence motion was 'low on substance' and 'high on entertainment'.
After a no-holds barred and scathing criticism of the prime minister on several issues, including the Rafale jet deal, the Congress leader walked across the green-carpeted well of Lok Sabha to Modi and hugged him, a gesture which took the treasury bench members by surprise.
Gandhi's unexpected gesture came during a debate on the no-confidence motion moved by the Telugu Desam Party against the Modi government.
He also launched a scathing attack on Modi, accusing him of being a 'bhagidar' (collaborator) instead of a 'chowkidar', in alleged graft in the Rafale deal and said the people were the victims of his 'gimmickry'.
The Shiv Sena was all praise for Gandhi after his speech, saying he had now 'graduated from the real school of politics'.
The Shiv Sena which is a partner of the Bharatiya Janata Party in the Maharashtra government, had decided not to take part in the no-trust vote.
"The Congress chief has now graduated from the real school of politics," party leader Sanjay Raut said.
Raut said Gandhi's hug to the prime minister at the end of his speech was actually a shock for Modi.
"This wasn't a hug, but a shock to Modi," Raut said, adding that there would be more 'tremors' like today for the BJP.
As Gandhi was also seen winking after returning to his seat, comparisons weer drawn on social media with Malayali actor Priya Prakash Varrier.
However, the actor termed it a 'sweet gesture'.
Varrier said, "I came back from college to see the news that Rahul Gandhi has winked at our Prime Minister Narendra Modi in the parliament. He has greeted with the wink which is a very sweet gesture."
Commenting on the Congress president's speech, BJP national spokesperson Sambit Patra said, "It was low on substance and high on entertainment value. Since yesterday, the country was observing Rahul and wanted to hear his speech.
"He (Rahul) had said last time that when he would speak, there would be an earthquake. We waited for 15 minutes, half-an-hour, one hour, but nothing transpired as there was no substance in the speech of Rahul Gandhi," he said.
The BJP spokesperson also disapproved the 'kind of entertainment Gandhi made out of his speech by saying BJP and RSS taught him (Gandhi) what Hindustani and Hindu means'.
Patra also criticised the Congress leader for "pointing fingers at an MP and saying --she was smiling at me", in a reference to Union minister and Bathinda MP Harsimrat Kaur Badal.
He said Gandhi should have dealt with the issues in Parliament 'maturely'.
"Maturity was lacking in Rahul Gandhi. I believe no 'earthquake' came, but the land below Rahul and Congress party's feet was definitely shaken," he added.
Union minister Babul Supriyo also attacked the Gandhi scion over his speech and gesture in the Lower House, saying the latter should have respected his party's traditions and history.
"Congress party has a tradition, a history. Even though they have done many wrongs, they should respect that (tradition and history)," he said.
"What is this? This is no gallery show. Is it a one-act play that one comes and hugs the prime minister? Somebody should make him understand the dignity of his position," Supriyo said.
Union minister Narendra Singh Tomar said Gandhi's speech lacked 'truth'.
"Rahul Gandhi's speech lacked any power, any truth," he said.
Criticising the Congress chief's gesture, actor-turned-politician and BJP MP Kirron Kher said, "He can go to Bollywood...we have come from there but now he can go after fine-tuning his acting skills".
Union Minister Harsimrat Kaur Badal too took potshots at Rahul Gandhi, asking what did he have today before coming to Parliament, while claiming that the Opposition leader had accused Punjabis of being "nashedi (drug addicts)".
Akali Dal leader Harsimrat Kaur stood up and took objection to Gandhi's hug saying he cannot do this "pappi-jhappi moment" in the House.
Later, talking to reporters outside Parliament about the event that unfolded in the House, she accused Gandhi of resorting to "dramebaazi".
"They call us Punjabis as nashedi (drug addicts). So I also asked him with a smile, 'aaj aap kaunsa kar ke aaye hain (what did you take today). He failed to realise my gesture but only saw me smiling," she said.
During his speech, Gandhi said that opponents may hate him, call him "Pappu" but he has no anger or hatred against the prime minister.
However, Gandhi's party leaders hailed him for a "game-changing speech" and said the 'hug' was a spur-of-the-moment move and not a scripted one.
Several Congress leaders took to Twitter to hail their president and to attack the BJP and the Modi government.
"What an astonishing performance by @RahulGandhi. It was a game-changing speech, tearing apart the Govt's claims & ending with that unscripted hug that has literally taken the BJP's breath away #BhukampAaGaya," Congress leader Shashi Tharoor tweeted.
Another Congress leader Jyotiraditya Scindia said, "It (hug) was not scripted. It was on the spur of the moment."
Party spokesperson Randeep Surjewala asked why the BJP was shaken and why was there so much anger in the saffron party.
"Why isn't the seedling of love growing. Why so much hatred for Rahul Gandhi and Congress. The PM should have thought that even after being junior to him, the way he (Rahul) showed respect, he should have at least thanked him for that," Surjewala said, referring to Rahul's hug.
He said the country knew the truth and even if Modi may not give answers to questions raised by Rahul Gandhi he should tell the nation when will farmers get rid of debts, when will youth get 2 crore jobs every year and when will atrocities stop on dalits, women and weaker sections.
"Be it Giriraj SIngh, or Harsimrat Kaur, or Kiron Kher or Smriti Irani or BJP's official troll spokesperson, I have only one thing to say -- Raghupathi Raghav Raja Ram, Aapko bhi sanmati de bhagwan," he said.
Congress Delhi unit chief Ajay Maken also termed Gandhi's speech as "excellent" and his hug a "winner".
"Excellent speech by @RahulGandhi. His four words phrase is going to haunt Modi for a long long time! Chaukidar nahi bhagidar hai. @RahulGandhi's 'hug' was a winner, and this gesture is an answer to the enormous hatred spread under the BJP's governance!," he tweeted.
Photograph: PTI Photo.
With ANI inputs