Judge Vyas observed that it was for the first time that a dozen persons were being convicted for conspiring in a terror attack before they could do any damage.
Prakash Bhandari reports.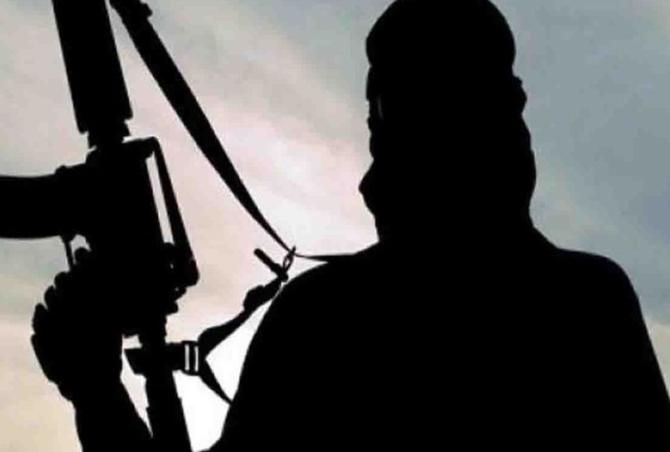 A Jaipur court has sentenced 12 men who were involved in a conspiracy and were identified as terrorists even though they were not directly involved in any destructive activities.
After a seven year trial the Jaipur court recently sentenced 12 youth to life imprisonment; they were all studying for a degree in either medicine or engineering.
Judge Umashankar Vyas, in his 257-page judgment, found the dozen to be involved in Indian Mujahideen's conspiracy to plant bombs in Jaipur's Moti Doongari, World Trade Park and in Bharatpur.
The defendants have the option to appeal the verdict in the high court.
The court also levied a collective fine of Rs 91 lakh (Rs 9.1 million) on the 12 convicts.
Judge Vyas observed that it was for the first time that a dozen persons were being convicted for conspiring in a terror attack using explosives, after being apprehended before they could do any damage.
But since they were identified as terrorists and were involved in conspiracy to cause mass-scale destructions, they were deserving of life imprisonment.
Mohammed Ammar Yasser, Mohammed Sajjad, Mohammed Aqib, Mohammed Umar, Abdul Wahid Ghauri, Mohammed Waqar, Abdul Majid, Mohammed Maruf, Waqar Azhar, Barkat Ali, Mohammed Saqib Ansari and Ashraf Ali Khan were sentenced to life imprisonment under section 121 of the Indian Penal Code (waging war against the State).
Apart from this, they were found guilty under the sections 121A and 122 (preparing to wage war), 465 , 468 and 471 (forgery) and 120B (party to criminal conspiracy).
According to Public Prosecutor Liaquat Ali, the convicts were also found guilty under various section of the Explosive Substance Act and Unlawful Activities (Prevention) Act.
Liaquat Ali said the defendants failed to produce even a single witness or evidence in their defence, nor could they prove that the charges against them were fabricated.
On the other hand, the prosecution produced over 175 pieces of evidence against the terrorists that proved their involvement.
According to Public Prosecutor Liaquat Ali, the convicted men had formed a sleeper cell to conduct terrorist activities in the busy areas of Jaipur like the Moti Doongari Ganesh temple, the Birla Mandir, the World Trade Park, and in Bharatpur's Ganga mandir.
There were 20 accused in the case, but only 13 could be arrested, Liaquat Ali added.
The other accused are Mohammed Mehrajuddin, Tahseen Akhtar, Mohammed Ata, Zia-ur Rahman, Iqbal Bhatkal and Riaz Bhatkal.
One of the accused, Pakistani terrorist Zia-ur Rahman, is in Tihar jail, while Iqbal and Riaz Bhatkal fled to Pakistan and the others are absconding.
The chargesheet said Delhi's Anti-terrorist Squad arrested Zia-ur Rahman in Delhi on March 22, 2014.
During interrogation, Rahman disclosed details about the Rajasthan module and the conspiracy to create terror by planting bombs and that Mohammed Marruf, Mohammed Waqar alias Hanif and Saqib from Jodhpur, who were all engineering students, received training to make bombs.
On the basis of Rahman's interrogation, the Delhi ATS in association with Rajasthan's ATS and the Special Operation Group arrested 13 men in Jodhpur, Jaipur, Sikar and Gaya in Bihar.
Jodhpur was a centre of the Indian Mujahideen's activities and the convicted youth used to assemble in the city to plan their activities.
Those who were trained in making bombs spent 15 days in Mumbai to learn how bombs were made.
The sleeper cell formation was also born in Jodhpur.
The conspirators were in the age group of 18 to 30 and were studying medicine or engineering and their parents had no clue about their connections with the Indian Mujahideen.
Investigation Officer Anant Kumar, who is now posted as an additional superintendent of police in Udaipur, said the investigation process was a tiring and exhaustive process.
While there was no direct evidence against the sentenced youth, Anant Kumar said the electronic gadgets seized from them led to the discovery of their involvement.
The data retrieved from computerS and mobile phones revealed that explosives were bought in Bharatpur, Jaipur, Jodhpur, Agra and Pali.
"Over 170 pieces of evidence collected helped the investigating team to prepare a chargesheet of 5,550 pages," says Anant Kumar, "and it took us 180 days to do it."