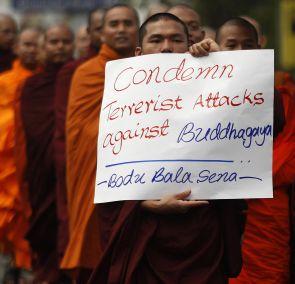 In the wake of the National Investigation Agency issuing a fresh alert to the Himachal Pradesh Police about a possible strike on the Buddhist people and their places of worship in the state, the investigation agency has been probing a couple of youth from Assam in connection with the Bodh Gaya attack.
The investigations conducted by the NIA so far reveal that the bomber, whose picture they had released last week, was a man of Assamese origin and could have possibly been hired by the terrorist group to carry out the strike.
Further during the interrogation of several Indian Mujahideen operatives, the NIA found that more attacks on Buddhist places of worship was on the cards.
The specific alert has, however, been issued in respect to Himachal Pradesh.
Sources in the NIA told Rediff.com that the attacks had been planned by the Indian Mujahideen on the instructions of some Bangladesh-based outfits.
"It is part of a larger war against the Buddhists in connection with the incidents in Myanmar. We have cautioned all states which have a considerable Buddhist population," the official said.
The sources also added that the information came out following the investigation of some IM operatives like Obaidur Rehman from Hyderabad who said that the outfit had plans of this nature on its agenda.
Meanwhile, the NIA has sought assistance of the Assam Police to track down the bomber. Investigations have shown that he is from Assam and could have been hired for the Bodh Gaya operation.
The NIA is, however, not sure if this person was brought down from Assam or a local person was hired for the operation. He could have escaped to Assam following the operation, sources in the NIA pointed out.
The other possibility that the NIA is exploring is whether this person is a Rohingya Muslim who was part of the refugee camp in Assam.
Image: A Buddhist monk protests against bomb attacks in Bodh Gaya
Photograph: Reuters