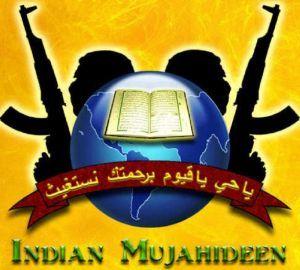 Indian Mujahideen was planning to send letters "soaked with poison" to their targets to kill them, the Delhi Police has told a court here in its charge sheet filed against six suspected men of the terror outfit in a case of allegedly setting up an illegal arms factory in New Delhi.
In its supplementary charge sheet, the Special Cell of Delhi Police claimed that during interrogation, suspected IM operatives Tehsin Akhtar and Mohd Waqar Azhar had disclosed that they had made efforts to make poison with the help of available chemicals.
"During their interrogation, accused Waqar and Tehsin had disclosed that they had made efforts to make poison with the help of available chemicals such as magnesium sulphate, acetone and castor seeds."
"Their purpose behind making poison was to attempt target killing by sending letter soaked with poison. These chemicals have been recovered from Waqar," the police said in its charge sheet filed before Additional Sessions Judge Reetesh Singh.
In the supplementary charge sheet, the police has named suspected top IM operatives Tehsin Akhtar, Zia-Ur-Rehman, Mohd Waqar Azhar, Mohd Maroof, Mohd Saquib Ansari and Imteyaz Alam as accused. They all have been arrested.
They have been charge sheeted for various offences punishable under the provisions of the Unlawful Activities (Prevention) Act, the Explosive Substances Act, the Arms Act and the IPC.
In its charge sheet, the police alleged that IM members had conducted recce of historic Taj Mahal and Agra Fort in Agra to carry out bomb blasts and Bharatpur in Rajasthan was also one of their next targets.
"During investigation, on April 18, 2014, accused Saquib Ansari, pursuant to his disclosure, led the police team to a hotel in the name of 'KGN' in Agra, UP where he along with Barqat (suspected IM operative) had stayed on March 7, 2014. They had gone to Agra on the directions of Riyaz Bhatkal to conduct a recce of Agra Fort, Taj Mahal etc. for causing blasts," the police said.
Giving details of code words used by these accused during their Internet chats, the police said arrested IM co-founder Yasin Bhatkal was called 'Bhaiya' while 'CV' was used for explosives and 'beb' for top IM operative Iqbal Bhatkal.
It claimed that 'Badey' was used for Al-Qaida and Taliban while Pakistan was termed as 'Gaon'.
The police had filed this charge sheet on August 8 in connection with a case of allegedly setting up an illegal arms factory here from where a huge quantity of arms and ammunition were recovered.
The matter will come up for hearing tomorrow before the court.
The police had earlier chargesheeted IM India Chief Yasin Bhatkal, his aide Assadullah Akhtar and various others, including alleged IM operative Quateel Siddiqui who had died inside Pune's Yerawada central jail in June 8, 2012, in connection with the case.
The special cell had alleged that these accused had set up the arms factory in Meer Vihar area of Nangloi in Outer Delhi for manufacturing arms and ammunition to carry out terrorist activities in Delhi and other parts of the country.
It had claimed that a huge quantity of IEDs, explosives materials, arms and ammunition were recovered from the factory.
The police had in November 2011, busted the factory located in Meer Vihar area and several IM suspects were arrested.
It had said the weapons manufacturing unit had elaborate equipment like moulding, cutting, assembly drilling and grinding machines besides explosives and rocket launchers.
Tehsin was arrested from near Kakarvitta Indo-Nepal border in Darjeeling district of West Bengal on March 25.
Zia-Ur-Rehman was arrested outside Ajmer Railway Station on March 22 and his three associates -- Maroof, Azhar, both residents of Jaipur, and Ansari, a resident of Jodhpur, were arrested by the police on March 23 and thereafter, brought to Delhi.
© Copyright 2020 PTI. All rights reserved. Republication or redistribution of PTI content, including by framing or similar means, is expressly prohibited without the prior written consent.