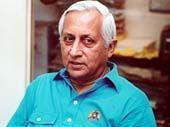 Lt General K S Brar, the Operation Bluestar hero who survived a bid on his life in London on Sunday, will resist any move by the government to relocate him, saying he finds Mumbai -- his home of 20 years -- "absolutely safe" and he cannot be treated like a "football".
The 78-year-old former general of the Indian Army does not want to lead the "life of a prisoner" and feels relocation is no answer to the threat to his life.
"Yes, I will resist any attempt to relocate me. I cannot be treated like a football. I have been here for the last 20 years. I am 78 now and have few more years left. I have friends and family here," Brar told PTI in an interview while responding to media reports that the Centre was planning to shift him to an undisclosed location.
"There is no threat to the place where I stay. What is a safer place than this, unless it is in the middle of a forest, or in a prison or in a war cell. I don't want to live a prisoner's life," the highly-decorated officer, who led the operation to flush out terrorists from the Golden Temple in 1984, said.
Brar said he would cut down on his movement but "never live in a cage".
"Relocation is no answer (to threat to his life) as those who want to know where I am will get to know where I am," he said, adding he has not received any official communication from the government about plans to shift him from Mumbai to a more secure place.
On media reports that the attack on him was planned in Germany on June 6, the anniversary of 'Operation Bluestar', Brar claimed it was to take place in India.
Brar, who was stabbed in the neck and cheek near Oxford Street in London on September 30 when he was walking down to his hotel with his wife, is convinced that the attackers were pro-Khalistan elements and they intended to kill him.
"On Facebook there are groups like 'Hate Brar' inviting others to join them. Khalistani groups abuse me" and say "he should not be allowed to live," Brar said.
"These are only social networking sites. I don't know how these things are permitted. It is promoting hate on Facebook and also criminal action is taking place on the social networking site," he lamented.
He said had his attackers only planned to rob him, they would not have knived him in the throat.
Brar, whose security has been withdrawn or downgraded quite a few times in the past, said, "I am nobody to say I face a threat or not. If government says there is none, it is fine."
Brar described as a "very good move" the decision to send officers of the Punjab Police to London to probe the attack on him and said a joint investigation should be launched by them and the Scotland Yard.
The army veteran, who holds strong views against a martyr's memorial coming up in the Golden Temple, the most sacred of Sikh shrines, to commemorate the separatists felled during 'Operation Bluestar', warned it would become a rallying point for "future terrorists".
 "They (the terrorists and pro-Khalistan forces) will be emboldened by this action. What about soldiers who fight for the country, who keep the country strong? I am sure the Centre will not approve of this memorial.
"News has been coming that Akali leaders have been visiting the place. Centre must be knowing about it for a long time. I don't know why they are sending teams now," he wondered.
Brar expressed happiness over the arrests made in London in connection with the attack on him. "Hopefully, more will be arrested. I am sure police will get to the bottom of the crime and expose all those involved in this act," he said.
Asked whether Pakistan's controversial ISI could be behind the attack, the former General said, "I don't want to comment on this. It is for the investigators to find out."