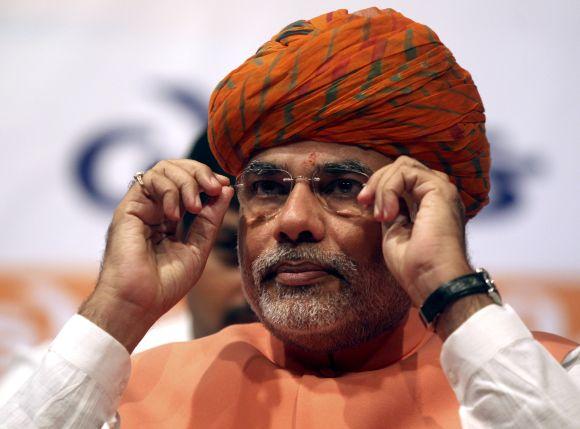 Saying that protection of "mothers and sisters" was a big issue before the Indian society, Gujarat Chief Minister Narendra Modi on Friday said here that if women were feeling insecure, the Indian men had no right to call themselves "mard" (manly).
"In the country of Sita and Savitris....protection of mothers and daughters is a big question for the Indian society," Modi said at a rally in the newly-created Chota Udepur district.
"I don't want to make a political comment. But I want to ask men why our sisters are unable to lead a peaceful life despite our presence.... (How is it) that our sisters can't stay alone at home..." Modi said, speaking at the function where he was felicitated for creation of the new district.
"If this is so, we have no right to call ourselves men. We have no right to call ourselves `mard'. We must die of shame," Modi said. The BJP campaign committee chairman however did not refer to the recent incidents such as the Mumbai gang rape and allegations of sexual assault against controversial godman Asaram Bapu.
But he derided those who blame women for such incidents. "Some men with pervert brains blame women for such acts. It is no fault of the woman....The fault lies in the pervert minds of men. And, society has to fight against such pervert mindset," Modi said.
"Exploitation of women and daughters is a blot on the society, which it must fight. Society must get rid of this blot. We must assume a collective responsibility to get rid of this blot," Modi said.
He added that "this country was never like this. These pervert mindsets are not what India is associated with". Hitting out at the UPA government on this occasion, Modi said that unlike those who had been making false promises for the last 60 years, his government kept its promises.
On the creation of the new district, which was carved out of the Vadodara district, Modi said, "The entire state apparatus is coming here to serve you. The poor and the marginalised will gain immensely from this."
Inviting the local farmers to attend the next month's Vibrant Gujarat Global Agriculture Fair, Modi said latest discoveries, tools and best practices in the agriculture will be on display at the fair.
"Farmers have to travel to Israel for such a fair, but the Gujarat government decided to hold it in Gujarat so that the farmers need not travel great distances." The Chota Udepur district was among the seven districts created on August 15 this year. It comprises tehsils of Chota Udepur, Sankheda, Naswadi, Kawant and Jetpur Pavi.