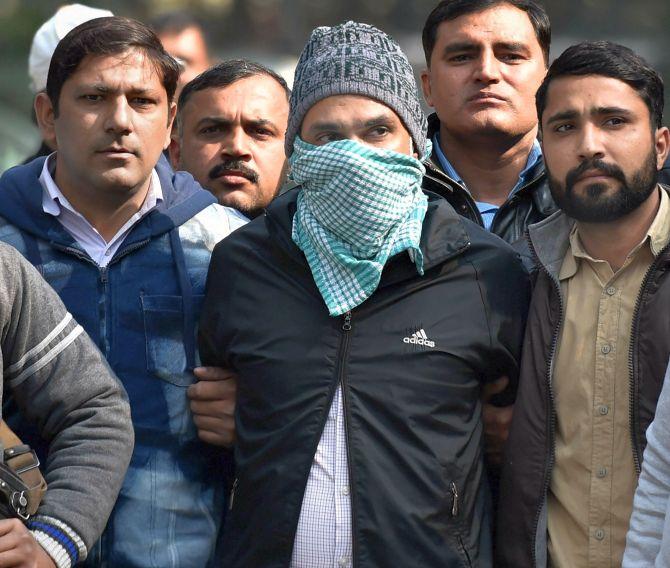 Gujarat serial blasts mastermind Abdul Subhan Qureshi, who had earned the nickname of 'India's Osama bin Laden', could have been a top-notch IT professional, had he not joined Students Islamic Movement of India in 2001-2002.
Qureshi, 46, had been on the run since 20 blasts ripped through Gujarat's main city Ahmedabad on July 26, 2008, killing more than 50 people and wounding several others.
But he was finally nabbed by the Delhi Police's Special Cell on Saturday night, bringing to rest a manhunt of 10 long years.
Qureshi alias Tauqeer was the co-founder of the Indian Mujahideen and also headed the SIMI.
His name had also figured in the 2006 Mumbai blasts and some other terror cases but he had managed to keep the police and other investigative agencies on their toes in his search all these years.
But luck ran out on him Saturday night when he was arrested for the first time by the Special Cell from east Delhi's Ghazipur area following a brief exchange of fire.
An officer privy to the probe said that Qureshi has a "cool personality" and is somebody who "does not get hyper".
"He could easily mingle with a crowd. In order to avoid being nabbed, he would always use pubic transport and would travel in general coaches in trains. If he had a meeting fixed at a particular hour, he would either reach there before the scheduled time or would reach late," the officer said.
Qureshi developed an inclination towards SIMI in 1994-95 when he started attending its meetings that were held near his home in Mumbai.
"A look into his life belies the theory that terrorists come from uneducated and deprived backgrounds," said Pramod Singh Kushwah, Deputy Commissioner of Police (Special Cell).
He did his schooling from a Christian missionary school, in Byculla, Mumbai. In 1992, he got admission in the Bharti Vidyapeeth, Navi Mumbai and in 1995, he completed diploma in Industrial Electronics.
As a teenager, he started visiting the Muslim Charitable Library near his house where he would read many newspapers and took a keen interest in issues related to Islam. He also started taking part in social gatherings on religious issues, the DCP said.
After completing his education in 1995, he started working as a customer support engineer at a company in Fort, Mumbai.
He had sound technological knowledge, and even passed the Microsoft Certified Software Engineering, besides doing Industrial Electronics from Bharti Vidyapeeth, Mumbai and hardware networking course.
During this period, he also attended weekly programmes of SIMI in Kurla, Mumbai and came in contact with Riyaz Bhatkal, then a student in Byculla College, Mumbai.
He joined SIMI in 1996. He got married in February 1999 and also switched his job location to Andheri East, Mumbai. By 2000, he had transformed into a highly-radicalised youth, totally disillusioned with the establishment and determined to follow the ideology of jihad, said the officer.
He soon became a prominent member of SIMI and was assigned the task of editing the English edition of its magazine 'Islamic Movement'. He left his well-paid job in a top IT firm in Mumbai and moved to Zakir Nagar, Delhi.
During his stay in Delhi, he grew very close to Safdar Nagori, the then General Secretary of Central Advisory Committee of SIMI.
After SIMI was banned in September 2001, some of its activists were arrested in Surat, Gujarat and Qureshi's name also figured during the investigation.
In order to evade Surat Police, he shifted his base to Bijapur, Karnataka. Nagori appointed him "Head Ansar" of Karnataka operations.
While staying in Bijapur he frequently travelled to Bhatkal and revived his association with Riyaz Bhatkal and also came in contact with Iqbal Bhatkal.
At that time Bhatkal was the nerve centre of radical youths and Qureshi who was by now second in command of SIMI, became a co-founder of Indian Mujahideen along with the Bhatkal brothers, the police officer said.
He efficiently worked as the main bridge between the old cadre of SIMI and the newly-founded IM. By 2005, after reviving SIMI in south India and forging proper ties with IM, he diverted his energies to carrying out action in Maharashtra and Gujarat.
On July 11, 2006, SIMI/IM executed serial blasts in local trains in Mumbai. Subsequently Qureshi's name figured in this case and he fled Mumbai for Karnataka.
SIMI and IM together wanted to carry out widespread terror activities. A meeting of SIMI cadres under the aegis of Nagori and Qureshi took place at Castle Rock, Hubli, Karnataka in 2007.
The duo organised training camps of SIMI cadres at Choral, (Indore, MP) in November 2007, at Wagamon (Kerala) in December 2007, at Halol (Gujarat) in January 2008.
In these camps, physical and psychological training was imparted to the cadres to wage jihad against India.
Mountaineering, swimming, map reading, pistol firing, preparing and using Molotov cocktail (petrol bomb), enacting fake accidents to declare death of cadres and other evading tactics to be adopted to mislead the interrogators, if arrested, were also taught, the officer said.
Qureshi has a gift of gab to influence and motivate impressionable minds into waging jihad, said the officer.
It is understood that he is a bomb-maker and the suspected signatory of the IM terror email as 'al-Arabi', he added.
After Nagori was arrested, he planned the Gujarat blasts to avenge the arrest of Nagori and other SIMI members and to send out a strong message to the establishment.
Interpol Red Notices were issued against him for his role as main conspirator in the Ahmedabad serial blasts.
He is also the suspected handler of Alam Jeb Afridi who had planted the low-intensity bomb in Church Street, Bengaluru on December 28, 2014, a fact that the Delhi Police will confirm with their counterparts there, the officer said.
Qureshi had not visited his Mumbai residence in the last 10 years and was in Nepal after executing the 2008 Gujarat blasts.
In Nepal, he worked as an English teacher while also arranging funds for revival of IM. It is suspected that he also had links with Islamic State since many of his associates also had foreign linkages.
Between 2015-17, he was in Saudi Arabia, where he worked as a salesman at various places.
Maharashtra's Anti-Terrorism Squad will coordinate with the Delhi Special Cell and send a team to interrogate Qureshi who is in custody of the Delhi Police, sources in the state police said in Mumbai.
The ATS will seek Qureshi's custody in connection with the pending cases against him, the sources said.
The National Investigation Agency, probing the 2010 Delhi blast case, had announced a reward of Rs 4 lakh on Qureshi who had been followed by teams of the Special Cell of Delhi Police and other intelligence agencies.
Image: Abdul Subhan Qureshi, one of the most wanted terrorists arrested by Delhi Police Special Cell, produced in a court in New Delhi on Monday. Photograph: Manvender Vashist/PTI Photo
© Copyright 2023 PTI. All rights reserved. Republication or redistribution of PTI content, including by framing or similar means, is expressly prohibited without the prior written consent.