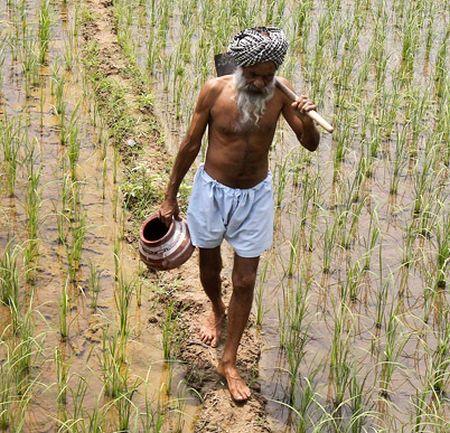 Facing resistance on the land bill, Prime Minister Narendra Modi on Friday expressed readiness to make changes in the proposed legislation as he reached out to the opposition for support, saying they should shed politics and not make it a prestige issue.
"We should not have ego that there can be nothing better than what we did. When you passed the Land Act (in 2013), we stood shoulder to shoulder with you. We knew that you want to take political mileage out of it. Still we stood by you," he told the Congress in the Lok Sabha.
Modi, who was replying to a debate on the Motion of Thanks to the President's address, said his government wanted to make changes in the Land Act passed during the United Progressive Alliance tenure because all the chief ministers had said it was against farmers' interest and hampered development and infrastructure creation.
"When our government was formed, CMs of all parties said in one voice: Please think about farmers, they want irrigation and infrastructure. You made such a law which is against farmers'interest.
Are we so arrogant that we will ignore the voice of CMs in a federal structure? Can we ignore farmers interest? Is it not our responsibility to correct the mistake, if any? Whatever you have done, we are not rejecting it. Do not weigh this in the balance of politics," he said.
Seeking the support of opposition in the passage of the bill, which he claimed was in farmers' interests, he said, "If you feel there are still any shortcomings, I am ready for any changes in it... Don't make it an issue of your prestige." He said there should be no ego and all parties should work together to correct the mistakes in the previous act.
His expression of readiness to make changes in the proposed new Land Acquisition bill comes against the backdrop of opposition by some allies as well as opposition parties. The new bill is aimed at amending the law passed over a year back.
While justifying the government's moves to amend the Land Act, the PM said cited various chief ministers as well as the defence forces wanted it.
He said defence forces officials had told him that the previous law was coming in the way of development of military and nuclear infrastructure.
Modi said the defence officials say 'Will we tell for which purpose we want the land? Better than that is to write to Pakistan (what we are doing)'.
He asked, "If a mistake has been made, should we not correct it?"
At the outset, he took a dig at the opposition, saying he was hearing various kinds of things about the measure. He insisted that he was not doing anything to gain political mileage out of it but was acting in the nation's interest.
Targeting the Congress, he questioned whether the party saw the plight of farmers only in 2013 since their land was being acquired under a law of 1894.
Modi said his government was for 'sabka saath, sabka vikas' and asked the opposition's support in this endeavour.