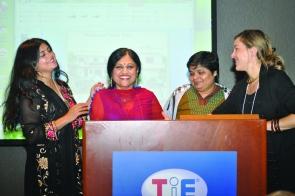 At its 45th annual award gala, Indians for Collective Action, one of the oldest community nonprofits in the Bay Area, honored Indian rural activist Neelima Mishra with the ICA's Social Innovator Award in Santa Clara, California, November 17.
Mishra, from Maharashtra, is a recipient of the Padma Shri, and the Ramon Magsaysay Award that is often dubbed Asia's Nobel Prize.
"Neelima is a simple unassuming down to earth woman who has transformed her village area and provides a role model for other villages and towns as to how empowering the local people can work wonders," said Abhay Bhushan, former president, ICA.
"We look at people in India and in the US who are social innovators and who have made a real difference in the life of fellow citizens, especially in areas of our current focus," Bhushan explained.
Mishra's work has focused on the Gandhian concept of swaraj -- empowering villagers to lead their own development initiatives and take responsibility for education, health care and economic development.
At age 13, she decided to dedicate her life to helping others in her desperately poor community. With a group of volunteers, she began helping women with small loans and teaching them how to make quilts to earn a living.
Mishra donated her entire award money from the Magsaysay Award in 2011 to her organisation, the Bhagini Nivedita Gramin Vigyan Niketan. She was awarded the Padma Shri this year. The ICA was started in 1968 at the University of California-Berkeley by a group of Indian students and faculty who wanted to transform India, Bhushan said.
The ICA, he said, has disbursed over $6.5 million to more than 400 projects across India. The first wave of ICA support, in the 1970s was focused on ideas and people. The focus in the 1980s was on education and integrated rural development.
In the 1990s, after the ICA helped launch Asha for Education and Foundation for Excellence, a new focus area was environment and women's empowerment. "We work closely with dedicated activists in India and help network them with other like-minded people," Bhushan said. "So, the ICA approach is not one of just funding projects but a partnership and a hands-on approach."
"We are also encouraging our second-generation youth to connect with India and work in some of these projects through InSPIRE, ICA Ambassador, India Development Circle and other programs," he added.
Mishra told India Abroad that she was aware of the work done by the ICA for India's development and was impressed by the consistency of their work. "Because of the ICA meeting," she said, "a wonderful group of friends got involved, by understanding our concept with whom I can share its journey from time to time. I have the belief that they will (be) with us."
Image: Neelima Mishra, second from right, at the event.