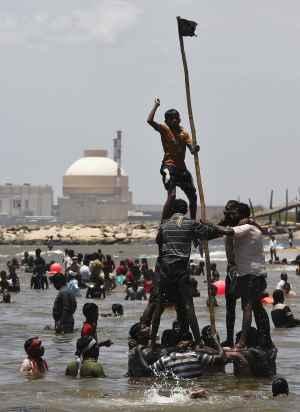 Many out of the total 85,000 NGOs operating in the country are using foreign funds to indulge into a lot of mischievous activities to hamper social and economic development, the Intelligence Bureau has alerted the Union home ministry in a report. From stage-managing protests to furthering conversion and money laundering, the problem at hand is huge, intelligence inputs point out. Vicky Nanjappa reports.
Do foreign funded non-governmental organisations have a negative impact on India? To a large extent yes, and a classified report of the Intelligence Bureau which has been submitted to the Union home ministry would suggest that there are several NGOs in the country which are in place only to weaken India on the security and economical front.
The most obvious interference from an NGO was found at the Kundankulam nuclear plant in Tamil Nadu. The protests that erupted against the plant had puzzled several intelligence agencies. The IB had then submitted a report to the then MHA about a US-based that was allegedly orchestrating the villagers' protests. However, the home ministry under the United Progressive Alliance government at that time had made a statement about the same and left it at that.
With a new government in place, the IB has once again raked up the issue and wants stringent action against such NGOs.
Handling NGOs is no easy task. There are 85,000 NGOs in the country out of which 17,000 are not registered. According to the IB report, these 17,000 unregistered NGOs pose a huge security risk.
At the same time, there have been instances of foul play by the NGOs that have been registered as well.
What has been found is that many NGOs which rely on foreign funds have been trying to stall developmental works. These NGOs have been set up with the help of funds from the US, UK, Germany and other countries only to ensure that some of the developmental projects run into troubled waters, the report points out.
Protests are usually stage-managed at new nuclear plants, industrial projects and hydro electric projects.
According to the report there has been a gradual shift from the manner in which these NGOs are working. Earlier these NGOs created rifts on the basis of caste discrimination, religion and human rights. Today they have been tasked to stall major projects by staging protests.
These NGOs work along with some unions who are paid a major chunk of money to stage protests, the report notes. The money on offer is so lucrative that these unions never come to the discussion table and this has been a very strange trend as more often than not one does not realise what they are protesting for, the report notes.
Giving an idea of how obscene the money that is being pumped in is, the IB report says that the top five donors are the United States of America which donates Rs 3838.23 crore annually, followed by UK (1219.02 crore), Germany (Rs 1096.01 crore), Italy (528.88 crore) and Netherlands (Rs 418.3 crore).
While this is one part of the problem on the development front, there are immense security concerns as well.
The report states that the conversion racket is immense and huge sums of money are being pumped in from the foreign countries through some NGOs to lure people into conversion.
"Such issues are bound to create a social divide as a result of which there is constant tension and this is very counter-productive to the growth of a region which is marred by conflict," the IB report states.
The other obvious problem is regarding money laundering. There are several NGOs which have been set up for this very purpose and businessmen, terrorists and criminals park their money in these NGOs, the report points out.
Very recently it was also found that several NGOs had mushroomed in Kerala and were collecting heavy donations from the Gulf. Later it was found that these NGOs were involved in the trafficking of women and children.
An IB officer says that the problem is huge and "85,000 NGOs is not a small number by any standard".
"There are several genuine NGOs and we have the details of those. However there are at least 20 per cent of these NGOs whose actions are suspicious. If the government decides to deal with this with an iron hand it will not be difficult to bring this problem under check", the officer also points out.
Image: Anti-nuclear plant protestors demonstrate near the Kudankulam plant. The IB report states that many such protests are stage-managed by foreign funded NGOs
Photograph: Adnan Abidi/Reuters