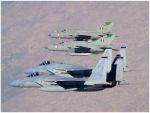 The prowess of IAF's frontline fighter aircraft Su-30MKI is set to get a boost with plans to equip them with missiles having a strike range of around 300 kilometres.
The plan is to upgrade the first 80 Su-30MKIs to the level 'Super Sukhois' which will have highly advanced radars and weapon systems, IAF sources told PTI.
Su-30 MKIs have been inducted into IAF in four phases. The ones to be upgraded are from the first phase and the project is likely to be completed in the next three to four years, they said.
The sources said the plan involves equipping the aircraft with long-range stand-off missiles up to the range of 300 km and a request for information (ROI) was issued recently for procuring such a weapon system from global vendors.
The missiles with a range around 300 kms would be in addition to the 290-km range BrahMos supersonic cruise missiles which would be carried by around 50 aircraft of the force.
The aircraft would also have the highly-advanced Active Electronically Scanned Array (AESA) radar along with the latest avionics systems, they said.
The Hindustan Aeronautics Limited (HAL) will work with the Russian help under a project expected to cost around Rs 10,900 crore for upgrading the Su-30 MKIs.
IAF has a fleet of around 170 Su-30MKIs and it has plans to procure around 272 of them.