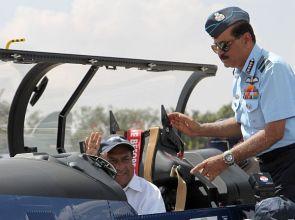 The Indian Air force has asked the government to procure the Swiss Pilatus basic trainer aircraft to train its rookie pilots instead of a similar aircraft being indigenously developed by Hindustan Aeronautics Limited.
In a letter to Defence Minister A K Antony, IAF Chief Air Chief Marshal NAK Browne has said cost of the HTT-40 aircraft being developed by the HAL would be higher than that of the Pilatus-PC 7 aircraft, which were recently inducted into the IAF, sources said.
The IAF has placed orders for 75 such aircraft from Swiss firm Pilatus and wants to add 106 more to its fleet as it plans to expand facilities for training as also number of pilots in the force, they said.
HAL wants the government to acquire its under-development HTT-40 aircraft whereas the IAF wants to stick to the Pilatus.
IAF had suggested a 'win-win situation' for HAL and asked it to tie-up with the Swiss manufacturer for a license-manufacture of the Pilatus aircraft at its facilities but this was not agreed upon by the sole aerospace PSU in the country.
IAF has told the government that the indigenous aircraft would be 25 per cent more expensive than the imported Pilatus.
"The real cost of HTT-40 at 2013 price level will be Rs 47.6 crore, which is 25 per cent more expensive," the IAF said in a statement.
HAL has been arguing that its aircraft would be cost-effective and will have low percentage of imported component which would be around 40 per cent.
In the military products claimed to be indigenous by the HAL, the percentage of indigenous content is very low like the Advanced Light Helicopter 'Dhruv'.
© Copyright 2022 PTI. All rights reserved. Republication or redistribution of PTI content, including by framing or similar means, is expressly prohibited without the prior written consent.