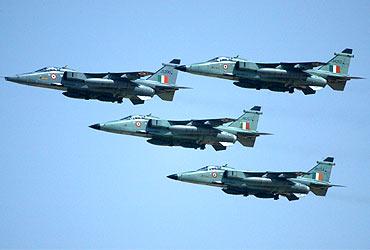 The Indian Air Force is gearing up for a day-and-night fire power blitzkrieg using its potent fighter jets including Sukhois for two days from February 24 in Pokhran after a gap of four years.
The high-voltage exercise 'Vayu Shakti' will showcase massive bombing, aerial dogfight and day-night air drop of commandos in Thar desert in Rajasthan to the nation's top political leaders, foreign dignitaries and military observers.
The largescale exercise would witness operations by 70 top-notch fighters such as Su-30MKI air superiority, Jaguar, Mirage-2000, MiG-29, MiG-27 and MiG-21, which are already on alert for the exercise at several air bases north of Vindhyas.
Being the fourth largest air force in the world after United States, Russia and China, IAF would deploy Mi-35 attack helicopters, Mi-17 medium lift helicopters, IL-76 heavy lift and AN-32 medium lift transport plane for the day-and-night air drop for specialised operations, IAF officers said in New Delhi on Tuesday.
"This year's Vayu Shakti is a major exercise, coming as it does after a gap of few years. It will demonstrate fire power and lift capabilities of the IAF during day-and-night operations. It will send a message that we have the required military capabilities to defend our geo-strategic interests," they said.
The idea of the exercise is to project the IAF's objectives in its present avatar, as spelt out by Air Chief Marshal P V Naik: "To see first and farthest, to reach first and furthest and to hit hard and accurately."
Image: Indian Air Force MIG 27 fighter jets take part in 'Vayu Shakti 2004' in Pokharan
Photograph: Kamal Kishore / Reuters
© Copyright 2021 PTI. All rights reserved. Republication or redistribution of PTI content, including by framing or similar means, is expressly prohibited without the prior written consent.