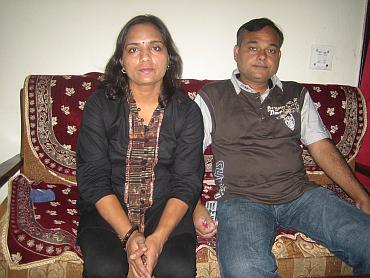 Anisha Ralhan travelled to Dehradun to meet Sarjana Singh, who ventured into the Chambal valley alone to rescue her husband from dacoits 

Sarjana Singh is a housewife from a small town near Dehradun. What is remarkable about her is that she ventured into Chambal valley all by herself to rescue her husband from dacoits.
As I ring her doorbell I can hear a voice inside saying,  'Gudiyaa, are your ready?' and sense a mild commotion in the house. "I am a very simple person. I am not used to facing cameras or giving interviews," she says by way of explanation, so the house turns pellmell everytime there's a media interview. Which, naturally, is frequent, ever since her exploit became known.
"People have started addressing me as Savitri," Sarjana says with a blush, the reference being to the legendary wife who followed Yama, the god of death, to reclaim her husband Satyavan's life. "I am an ordinary woman deeply in love with my family."
Her love was put to test on August 7, when Sarjana received a call from her husband Ajit Singh's mobile phone, informing her about his kidnapping. "He had gone to Agra on work and boarded a shared taxi to Pithoragarh, a small town in Uttarakhand.  After driving a few kilometres, the taxi halted and the driver and co-passengers turned out to be dacoits. They drove Ajit to the Chambal ravines at gunpoint," she said.
The kidnappers demanded a ransom of Rs 10 lakh and warned her against informing the police. "The kidnapper said he would kill my husband if I tried to act smart. I was shell-shocked, unable to control my tears. My husband is a professor in a government college at Dehradun. He is a humble man who has no enemies."
Sarjana says she informed the Agra police about the kidnapping and filed an FIR. "I wanted the police to carry out the investigation at their end but nothing more than that. I didn't tell them about the kidnapper's call because I didn't want to take a chance with these unruly men."
Sarjana knew well all about dacoits as her father, who was a jailor, had told her stories about them.
"The number of calls increased. It was very stressful because we could not have afforded the ransom amount. However, I decided to not think too much since I knew I had to free him," she said.
Determined, Sarjana packed all the cash she could collect, amounting to Rs 48,000, apart from her jewellery. With this, she and her brother set out for the Chambal forests. "I asked my brother to wait for me in Agra as I didn't want him to risk his life. This was about my husband and me and I was prepared to face the consequences. I was prepared to die," she says haltingly.
Meanwhile, she was in touch with the gang of dacoits who asked her to board a private cab and reach the interiors of the Chambal ravine. The vehicle had to be abandoned where the road ended. Sarjana then began a 10-km journey on foot.
"I was supposed to hand over the cash and jewellery at a temple. My heart was racing. I had to deliver the cash before nightfall or else we could have got lost on our way back. I sauntered into the thick forests as directed by the kidnappers. I remembered the film Bandit Queen. I had never seen anything like that landscape before."
More than exhaustion, fear enveloped her. She was unsure of the kidnappers' reaction on realising that she carried less than the agreed amount. After waiting for 20 minutes, the dacoits appeared before her. It was then she saw the face of her husband and breathed a sigh of relief.
What came next belied her imagination. "The gang leader offered me a glass of water and asked me to calm down. He looked astonished to see me alone. He said no woman had ever stepped into these forests alone, and questioned my sanity."
Sarjana handed over the bag to the dacoit and pleaded with him to release her husband. She says the dacoit was moved on seeing her in tears. "He called me 'sister'. He told me, 'I am human too, I am impressed by your courage' and returned Rs 5,100 and my gold earrings." 

A this point, her face lights up. "I am a firm believer in God. In this case, I'll say my instincts guided me. I knew I could save him. When I made the decision to travel by myself, even God couldn't have stopped me," she says with conviction.
"They are helpless. Nobody takes up arms out of choice. I'm sure they have a tragic past, maybe they are simply unheard voices,' she says of the dacoits.

Both Sarjana and Ajit agree that the Chambal dacoits aren't heartless brutes. Ajit says he was always fed on time. "I was treated normally, except for the fact I that I had to walk like I had wheels. These men don't have a fixed destination. They are fugitives, moving from one place to another," he says even as he shows the sores on his feet.
Sarjana is quick in her defence of the kidnappers. "They were considerate men. They even called me to find out if I had reached back safely," she says. After rescuing her husband, finding their way back was another arduous task. She feared another kidnapping, this time by another group.
Sarjana's bravery has been widely hailed, but to her husband it doesn't come as a surprise."I've known her well enough to tell myself that she would come," says Ajit. Sarjana had left her six-year old son with relatives in Greater Noida before setting out to meet the kidnappers. "Mummy promised me that she will bring daddy home," their son Monark whispers.
How did she conjure up such courage? Sarjana said she grew up in a family of jailors. "My father brought home weapons and told tales of criminals. I have always been fearless, it's in our blood," she smiles. When I asked her sister-in-law in their Greater Noida flat if she would have done the same thing, she too replied, "Of course!"
It doesn't come as a surprise that Sarjana and Ajit had a love marriage."I fell in love with him while in college and decided to marry him. My family had to give up before our resistance. In fact, after our marriage, they went their separate ways," she says
So what next for this braveheart? After a long pause, Sarjana says, "I want to reach out to women across the country, to say that that we must never underestimate our courage. Biologically we may be the weaker sex, but mentally we are stronger."
Image: Sarjana and Ajit Singh at their home in Dehradun | Photograph: Anisha Ralhan