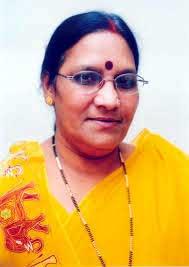 The 'Atal-Advani era' in the BJP is truly over, believes Karuna Shukla, the niece of party stalwart Atal Bihari Vajpayee
Former prime minister Atal Bihari Vajpayee's niece Karuna Shukla is a bitter person today.
She resigned from the Bharatiya Janata Party last week, putting an end to a three-decade old association. The incident failed to create any ripples in the saffron party; neither did anybody take notice of her resignation nor did any one rush to placate her.
Clearly upset over the shabby treatment meted out to her by the party, Karuna Shukla told Rediff.com that the party had "humiliated and harassed her", forcing her to take such an extreme step.
"Of course I am feeling sad about leaving a party with which I have been associated from its very inception. I was left with no choice but to take this extreme step," Karuna Shukla said in a telephonic conversation from Raipur in Chhattisgarh.
Shukla is a former legislator of the undivided Madhya Pradesh assembly and a former Member of Parliament from Janjgir in Chhattisgarh.
She blamed Chief Minister Raman Singh and BJP President Rajnath Singh for "systematically harassing" her.
"I cannot understand what they have against me. After all, Raman Singh has been the chief minister for ten years and Rajnath Singh is dreaming of becoming the country's prime minister," she said, adding, "that is no reason for them to feel any animosity towards me".
She alleged that the "harassment" started during the last state elections, when she wanted to contest from Bilaspur constituency but the seat was allotted to Dilip Singh Judeo instead.
She was moved to the Korba constituency, where she was pitted against and eventually lost to her old rival Charan Das Mahant.
"There was internal sabotage. Raman Singh and his cronies worked to ensure my defeat," she said, stating that the BJP leadership had forced her to contest the 2009 Lok Sabha elections although she had offered to sit it out and work for the party organisation.
Although she had been on the fringes of mainstream politics since her defeat, Shukla claimed that she had continued to work for the party.
She had earlier served as the BJP's national vice-president and as president of the party's Mahila Morcha.
Shukla claimed that though she had played a major role in the run-up to the 2003 assembly election, especially in handling rebel candidates, she was eventually stripped of all responsibilities in the Chhattisgarh unit of the BJP and removed from all party committees.
Shukla had sought an appointment with Rajnath Singh but, she says, he refused to give her an audience or even talk to her on the phone, even though she spent five days in Delhi.
"Other senior leaders like L K Advani, Murli Manohar Joshi, Sushma Swaraj and Venkaiah Naidu met me and were sympathetic, but not Rajnath Singh. I was really hurt," she said, alleging that the BJP president was completely under Raman Singh's influence.
"After this, I had no choice but to leave the BJP. When I have no role in the organisation and the party does not want to use my services, there is no reason for me to stay," she said.
Shukla denied reports that she had resigned because she was not considered for a ticket from the Beltara constituency for the forthcoming assembly polls.
Bitter at the turn of events, Vajpayee's niece lashed out at the CM and his style of functioning.
"They have become so arrogant. At a time when the party should be united, it is ridden with factionalism. The Congress, on the other hand, has got its act together. Its leaders have put their differences behind them and are putting up a united front," she lamented.
She dismissed pre-election surveys which have predicted a landslide victory for the Chhattisgarh CM, stating that those "have been managed."
According to Shukla, the BJP faces a tough fight in Chhattisgarh today, but the party has failed to acknowledge this challenge.
"In the last election, I made sure there was not a single rebel but today, there are as many as 18 rebels in the fray," she said.
According to her, BJP's prime ministerial candidate Narendra Modi was "making no impact" on the ground.
"It is most unfortunate that the Atal-Advani era in the party is now over," she lamented, adding that they did not even figure in the party's election posters, which featured only Singh and Modi.
The party has forgotten that Vajpayee was not only a prime minister but also a statesman, who commanded respect from across the political spectrum, rued Shukla.
Shukla admitted that several Congress leaders from Chhattisgarh -- including B K Hariprasad, Ajit Jogi and Charan Das Mahant -- had contacted her after she resigned, but she has not decided on her future plans yet.
"Right now, I am waiting for December 8, when the assembly election results will be declared. I want to see their egos crushed," she said angrily, adding that she will take the next step after the election results are declared.