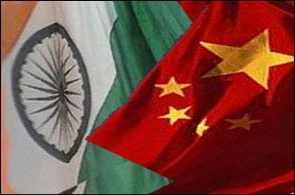 Four days after he was released from Chinese custody following detention for suspected terror links, Delhi businessman Rajiv Kulshrestha on Wednesday said the "stressful ordeal" was the result of an "error of judgment" on the part of the Chinese authorities.
Sharing his experience, Kulshrestha, 46, said the Chinese authorities looked after and treated him "well" during the detention and that he now wants to move on.
Kulshrestha was detained along with 19 other people including South African and British nationals from an airport at Ordos of North China's inner Mongolia region just before they were to board a flight to Xian.
"I just want to move on and get on with it. The rest authorities will work on. I think the embarrassing situation was an error of judgment as language is a major issue there (China)," he told PTI.
Kulshrestha, who was on a 30-day sight seeing group tour of China, was circumspect about sharing details that led to his detention, saying he had no intention to complicate issues further.
"We were watching a documentary. The hotel staff must have mistaken it to be propaganda material and reported it to the authorities primarily maybe because their English is pretty weak," he said.
Referring to alleged terror charges, he said, "Had it been a serious issue they would have held on to it." "My family and I are extremely grateful to the support received from the MEA, the ambassador and the counsellor and all the staff at Embassy of India, Beijing who proactively and tirelessly worked towards expediting my release along with the other group members and resolving the issue at the earliest," he said.
Kulshrestha was deported to India on July 18. Nineteen others, mostly British and South African nationals, from Gift of the Givers, a South African charity, were also deported to their respective countries.
Chinese authorities had said the group was detained on July 11 in accordance with China's criminal law which stipulates punishment for "allegedly organising, leading or joining terrorist groups".
The foreigners have been deported from China for illegally "watching video clips that advocate terrorism and religious extremism," the foreign affairs office in Ordos city in north hina's Inner Mongolia Autonomous Region, where they were detained, had said.
There were reports that some members of the group were watching a documentary on great warrior and founder of the Mongolian Empire Genghis Khan that raised suspicions about their terror links.