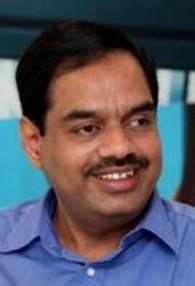 'The Aam Aadmi Party is the most successful and exciting start-up by an IIT-ian in the history of India,' former Infosys CFO V Balakrishnan tells Rediff.com's Vicky Nanjappa.
V Balakrishnan, the former chief financial officer of software giant Infosys, joined the Aam Aadmi Party on Wednesday.
AAP leaders have said they need candidates like him in their party, and Balakrishnan is optimistic about "getting into the fray and making a change."
In a candid chat with Rediff.com's Vicky Nanjappa, Balakrishnan says he joined the AAP as it "felt like the right thing to do."
This is what he had to say:
"A lot of things can be done to bring about change. It is better to get into the fray and make that change; it is the best way to go about it.
I have been fascinated by the Aam Aadmi Party. It is a great concept. The party has revolutionised the country to a great extent.
The party has not only shown promise, it has also delivered on what it had promised.
It is off to a great start and it will go a very long way in changing the political structure of the country.
I decided to join the Aam Aadmi Party for quite a few reasons. I felt the party was based on a fascinating concept and it is capable of creating a revolution.
There is a lot of scope in the Aam Aadmi Party as it is very serious about bringing in change.
I don't think of it as a political party, but as a concept.
According to me, it is the most successful and exciting start-up by an IIT-ian in the history of India (IIT-Kharagpur alumnus and Delhi Chief Minister Arvind Kejriwal is the founder-leader of the AAP).
I wanted to be part of it as it felt like the right thing to do. I am very confident about the party's prospects.
I am sure it will be able to make the necessary changes and it will go a very long way in changing politics.
I have just joined the party and I am more interested in working for the AAP and for this great concept. At the moment, I just want to be part of the AAP revolution.
After quitting Infosys, I, along with (former Infosys CFO) Mohandas Pai and (former member of the Wipro board of directors) Girish Paranjpe formed a private equity fund. We are waiting for an approval from SEBI (the Security and Exchange Board of India).
I am often asked if I can manage both politics and business. I believe I can. In the future too, I will be able to manage both.
"My decision to leave Infosys was not a sudden one. There has been speculation that the decision to quit was because I may not be considered for the post of chief executive officer.
I want to clear the air and say that such an issue was never on my mind. I had been thinking of leaving Infosys for some time.
I felt that the time was right to do something different. I also wanted to spend time with young entrepreneurs.
This decision was a personal one. I have thought it through over a period of time; the decision was not a sudden one.
The return of (Infosys founder and current Executive Chairman N R) Narayana Murthy is very good for the company.
I left Infosys on a good note and with no hard feelings. It was a personal decision; I wanted to pursue things of my interest."