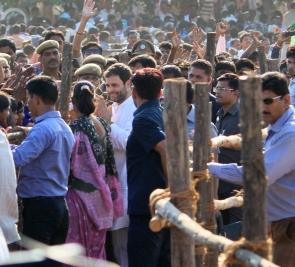 National vice-president of All India Congress Committee Rahul Gandhi, on Thursday played his master stroke and told a huge gathering of tribals to join politics as he wants that India's prime minister, chief ministers, members of Parliament and legislators come out of tribal communities.
The Gandhi scion was addressing a rally at Banswara district where tribals had gathered in large numbers.
"They (the BJP) talk about road, power and water and we do it more than them. They could not do these things better than us." He cited example that how during Chief Minister Ashok Gehlot's five years tenure power got generated 7,000 megawatts while it was only 1,200 during Vasundhara Raje rule.
With a pause, he continued, "But they can do one thing better than us and I can accept it from the stage, which is corruption. You can see that in Madhya Pradesh and Chhattisgarh. They are masters of corruption. On that issue, we accept our defeat. But where talk will be about roads, power, electricity, we are ahead."
On Thursday, Rahul clearly underline that these political elections are a battle of thought and ideologies. "For the BJP, medicine with marketing is good, costly medicines are good but free medicines are not. But our thinking is to make the poor stand on their feet, support them and break the wall of poverty for them."
Rahul tried to touch an emotional chord, "We brought the Tribal Bill and gave back land to them (tribals), and repeated that in Rajasthan also. But in Chhattisgarh and Madhya Pradesh, tribals did not get their land back,"
On Wednesday, United Progressive Alliance chairperson Sonia Gandhi had alleged that the BJP does politics of power and personal gain. On Thursday, Rahul stressed on the politics his party does.
"Our politics is for the poor, the tribals, the Dalits and minorities. We want your children could study in big colleges, could run big industries," said the Amethi MP.
And where his biggest critic, Gujarat Chief Minister Narendra Modi is seeking a mandate to become the prime minister, the Gandhi scion delivered his master stroke, "If you need employment, you will get it. But I want you to come in politics. I want that in the near future, members of Legislative Assembly, MPs, chief ministers and prime ministers comes out of the tribal community."
Image: Rahul Gandhi arrives at the Banswara rally.
Photograph: Chandra Mohan Aloria