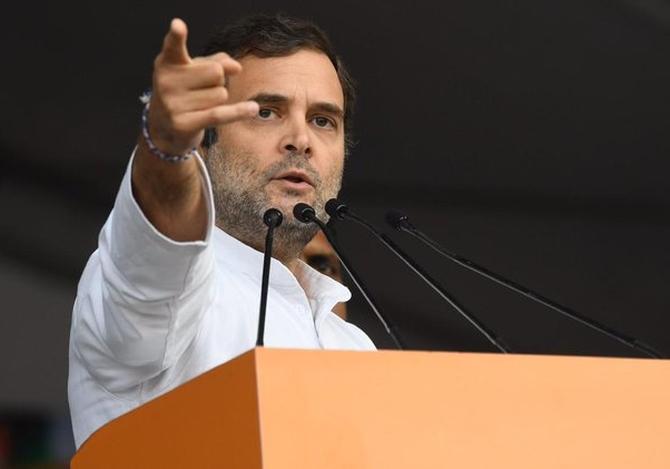 On December 14, Yogesh Soman, director of Mumbai University's Academy of Theatre Arts, recorded a video criticising Rahul Gandhi's remark against Vinayak Damodar Savarkar.
In the video, Soman is heard speaking about Rahul's 'pappugiri', attacking his lineage.
Soman's video was in reaction to Rahul's remarks at a public meeting on the same day where he refused to apologise to Prime Minister Narendra Damodardas Modi for his 'Rape in India' remark in the Lok Sabha during the winter session of Parliament.
'I am Rahul Gandhi, not Rahul Savarkar,' Gandhi said at the rally, taking a jibe at Savarkar's mercy petitions to the British.
Soman's counter video, shot and posted on social media on the same day, took a barb at the Congress leader. 'You really aren't Savarkar,' Soman said in the video, 'The truth is you aren't even a Gandhi.'
In the video, Soman is heard calling Rahul Gandhi's grandfather Feroze Gandhi 'abba' (a word Muslims use to address their fathers). Clarifying his 'abba' statement, Soman claims he was calling him Feroze 'aaba' (which in Marathi means grandfather).
"I said aaba, not abba," Soman claims in a conversation with Prasanna D Zore/Rediff.com. "I didn't use the word abba."
About his remark that Rahul is not even a Gandhi, Soman, who has acted in Drishyam and Uri: The Surgical Strike, says, "Gandhiji ke goon hum main bhi nahi hai (Even we don't possess the qualities of Mahatma Gandhi). Whenever anybody says 'Gandhi' he means Mahatma Gandhi."
Soman's contention is that he was referring to Mahatma Gandhi and not casting aspersion on Rahul Gandhi's lineage when he said in the video that Rahul Gandhi is not even a Gandhi.
About Mumbai University's action to send him on 'forced compulsory leave' after the furore created by the Congress's students union, the National Students Union of India, for his remarks against their leader, Soman says, "I haven't even seen the letter that talks about sending me on 'forced compulsory leave'. I am getting all these reports through newspapers and TV channels."
"If I get any legal summons or letter to such an effect (that I have been sent on 'compulsory leave') from them or whenever I meet them, because I am in Pune right now, I will record my statement. Only then will I openly speak to the media."
Trouble for Soman began on Monday, January 13, when students at Mumbai University's Kalina, north west Mumbai, campus protested, demanding his ouster over lack of quality lecturers, untimely lectures and poor facilities.
When asked about the issue, Soman refused to comment.
"I don't know if this (forced leave) is legally valid, but they have done it," he says about the university's decision to send him on leave.
"I will record my statement before the committee when they set up an enquiry committee and call me to know my side (about the complaints by students about poor facilities). I have keeping away from making my official statement public. I will record my statement before the enquiry committee," he says.
What immediately triggered action against Soman was the demonstration by NSUI members on January 14, seeking Soman's removal as punishment against his comments against Rahul Gandhi.
"I am not commenting on whether Mumbai University is acting under some kind of political pressure. I will speak my mind before the authorities," Soman says, when asked if he is being targeted for his politics.
"I stand by my remarks against Rahul Gandhi," he says, "I also stand by what I said in that video."