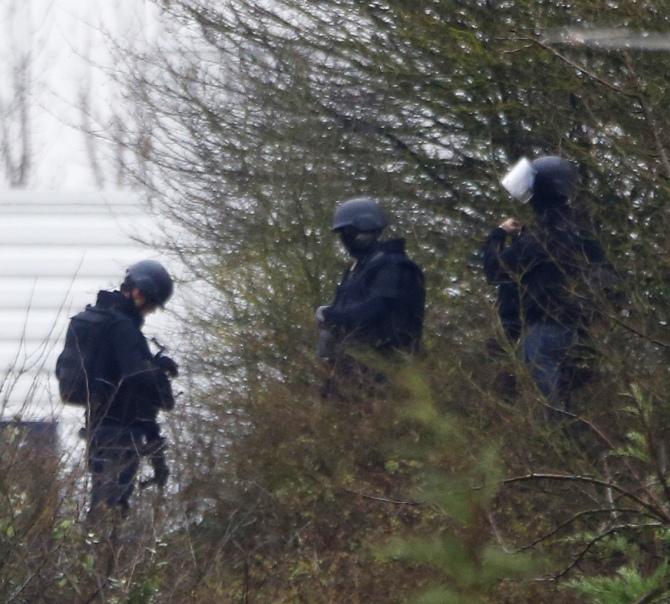 French special forces take position on a rooftop of the complex at the scene of a hostage taking at an industrial zone in Dammartin-en-Goele, northeast of Paris. Photograph: Pascal Rossignol/Reuters
Didier, a salesman at a printing press, didn't know a regular meeting with a client would turn the entire world's spotlight on his small industrial town of Dammartin-en-Goele, where France's most wanted men have been holed up since late Thursday evening.
He told the media that when he arrived at the press, his client came out to greet him with a heavily-armed man, who claimed he was from the police. The client told him to leave. "While leaving, after shaking my client's hand, I shook the hand of the other man, who now everyone knows as one of the terrorists," he said.
He described the armed man as wearing a bullet-proof vest and carrying a Kalashnikov rifle and looked just like elite police. As Didier was leaving, the armed man said to him, "We don't kill civilians, so leave."
Didier said he was struck by those words as he thought a real policeman wouldn't have said such a thing. "So I decided to call the police."
Asked what he was going to do now, Didier said, "I was very lucky this morning, so I am going to play the lottery."
The gunmen are believed to have taken one hostage with them into a storage unit, which is now surrounded by police commandos who have begun negotiations to try to secure their release.
Prior to the standoff, the suspects had hijacked a Peugeot 206 in Montagny-Sainte-Felicite from a woman who said she recognised them as the wanted men, a police source said.
The standoff was close to the same area where special police forces had been combing the countryside for the brothers. Dozens of police had earlier pursued the brothers along the National 2 highway, ending Dammartin-en-Goele, around 7 miles from Charles de Gaulle international airport.