IMAGE: BJP president Amit Shah visits the home of a BJP worker late Raju at Kyathamaranahalli in Mysuru on Friday. Photograph: PTI Photo

Bharatiya Janata Party president Amit Shah on Friday said his party, if voted to power, would make efforts to hunt down the killers of Rashtriya Swayamsevak Sangh and BJP workers in Karnataka, and hand out severest of punishment to them.
"I would like to tell the people of the state that Siddaramaiah's time has come to an end. Soon after BJP forms the next government under Yeddyurappa's leadership, it will make all efforts to hunt down killers (of RSS and BJP workers) from any corner of the world," he said.
Shah was speaking to reporters after meeting the family members of BJP worker Raju, who was hacked to death in March 2016.
"They will be sent to jail and handed out stringent punishment," he added.
Shah said Siddaramaiah was mistaken if he and his government thought they could stall saffron ideology from spreading by unleashing violence against BJP and RSS workers.
"In politics, there is no room for violence. If Siddaramaiah and his government think they can stall our ideology from spreading, then he is mistaken," he said.
Shah alleged that police were not initiating any action against those who killed as many as 22 BJP and RSS workers across Karnataka.
He alleged that the Siddaramaiah government has been releasing jailed killers and they have been 'given opportunity' once again to kill people.
Shah said he expected Siddaramaiah and the Janata Dal-Secular to get the 'biggest shock of their lives' from the old Mysuru region in the May 12 assembly polls, though his party was 'a bit weak' there.
"It is said that the BJP is a bit weak here (Old Mysuru region), but after seeing the work of the party workers, I expect Siddaramaiahji and the JD-S to get the biggest shock of their lives from this (Old) Mysuru region," he said while addressing the party's 'Nava Shakti Samavesha' rally in Mysuru.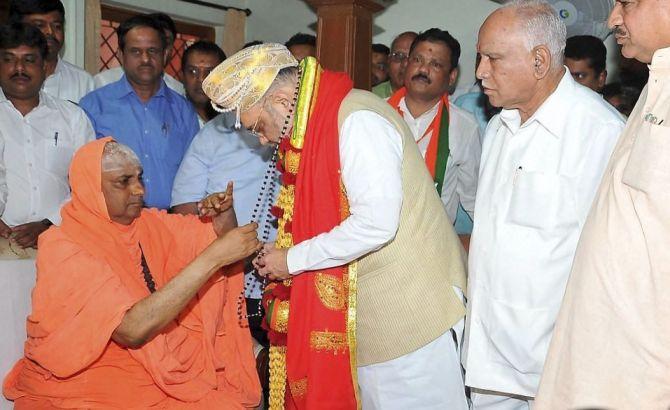 IMAGE: Shah visits the pontiff of Suttur Mutt, ahead of Karnataka assembly elections, in Mysuru on Friday. Also seen are BJP Karnataka state president B S Yeddyurappa and Union Minister Ananth Kumar. Photograph: PTI Photo
Shah began his tour of the old Mysuru region on Friday, where the BJP had not won even a single seat in the previous election.
He is scheduled to cover Mysuru, Chamarajanagara, Mandya and Ramanagara districts during his two-day trip.
Of the 26 assembly seats in the four districts, considered a Vokkaliga heartland, the BJP had not won even a single one in the 2013 Karnataka Assembly polls.
Moreover, the region is the home turf of Chief Minister Siddaramaiah, who hails from Mysuru.
The contest in old Mysuru is mainly between the Congress and the JD-S, led by former prime minister H D Deve Gowda.
Shah said it was the BJP, and not the JD-S, which had the ability to throw out the Siddaramaiah-led Congress government as Deve Gowda's party would only secure 'a very few seats here and there'.
"The Congress cannot take Karnataka on the path of development any further because its image has been soiled with corruption and the JD(S) does not have the ability to overthrow the Congress, because it can only win a few seats here and there," he said.
Shah asked the people of Mysuru to make a choice between a 'commission government' and a government which would take Karnataka on the path of development.
Prime Minister Narendra Modi had, at a recent rally, described the Siddaramaiah government as 'a 10 per cent commission government'.
Shah said his party did not only want to replace Siddaramaiah with Yeddyurappa as the chief minister, but also bring in change to take Karnataka on the path of development for the youth, women, Dalits and adivasis.
Referring to his gaffe at Davangere earlier this week, Shah said though he had committed a mistake in his speech while referring to Siddaramaiah's corruption, the people of the state would not do the same because they knew Siddaramaiah's rule well.
"Siddaramaiah and Rahul Gandhi were very happy over my gaffe while speaking about Siddaramaiah's corruption. I had made a mistake, but the people of Karnataka will not make it, because they have understood Siddaramaiah's government very well," he said.
In a slip of the tongue at a press conference at Davangere while attacking the Siddaramaiah dispensation as the 'most corrupt' one, Shah had said the Yeddyurappa government would get the number one award in corruption.
He had, however, corrected himself after being prompted by BJP MP Prahlad Joshi, who was seated next to him.
Shah also accused Siddaramaiah of playing with Karnataka's pride by not celebrating the 'jayanti' of noted Kannada poet Kuvempu or renowned engineer Sir M Vishveswaraiah.
"Siddaramaiah only remembers to celebrate the jayanti of Tipu Sultan (the 18th-century ruler of Mysore) to get votes," he said.
Shah also met the Wadiyar royal family of Mysuru on Friday.
Shah met the erstwhile royal family at their private palace in Mysuru, triggering speculations about their supporting or joining the BJP.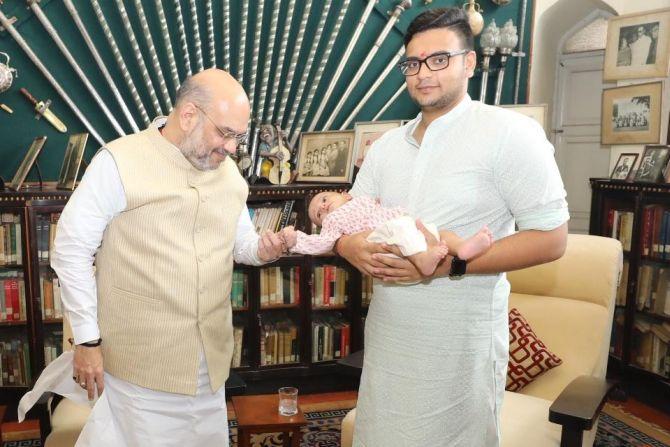 IMAGE: Shah with Maharaja-Yaduveer Krishnadatta Chamaraja Wadiyar. Photograph: Kind courtesy @AmitShah/Twitter

According to sources, during the closed door meeting with the scion of royal family or the present titular Maharaja-Yaduveer Krishnadatta Chamaraja Wadiyar and Rajamata Pramoda Devi Wadiyar, Shah reportedly discussed various issues, including politics.
He is also said to have expressed his admiration for the progressive and pro-people work by the royal family and the erstwhile Maharajas during their rule in the past.
State BJP Chief B S Yedyurappa, Union Minister Ananth Kumar and Member of Parliament from Mysuru Pratap Simha were present along with Shah during the meeting.
'Had a wonderful meeting with Maharaja Yaduveer Krishnadatta Chamaraja Wadiyar, Rajamatha Pramoda Devi Wadiyar and Maharani Trishika Kumari Devi of the Royal Family of Mysuru,' Shah said in a tweet after the meeting with pictures.
'It was nice to see Yuvraj Adyaveer Narasimha Wadiyar too!' he said in another tweet, sharing a picture of him along with Yaduveer and the infant 'prince'.
Amidst speculations in the media, Yaduveer, the 27th 'King' of the Wadiyar dynasty, had recently ruled out his political entry.
"I have told several times that I'm not interested in politics. There is no chance at all about me joining any party. I'm not interested in politics. Through social work we will continue our relationship with the public," he said.
Continuing BJP's bid to reach out to the prominent Lingayat community, Shah also paid a visit to the community prominent pontiff at Suttur Mutt in Mysuru.
'Took blessings of Sri Shivarathri Deshikendra Mahaswamiji of Sri Suttur Math in Mysuru,' Shah tweeted after his meeting with the seer, who, he noted, had made significant efforts towards spreading the values of Indian culture and tradition worldwide.
Shah also said he admired the math's role in providing education to the poor in rural Karnataka.
He has already covered parts of coastal and Malnad, north, and central regions of the state.