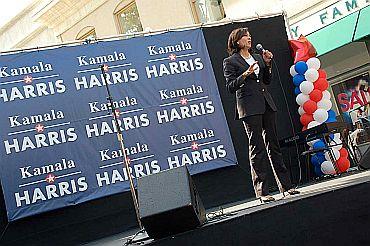 For San Francisco District Attorney Kamala Devi Harris -- the first African-American and the first Indian-American to do so, who is seeking to create history by becoming California's first lady -- her mother is her mentor.
"My mother was the strongest, smartest person I have ever known," Harris, the Democratic nominee running against Republican Steve Cooley in the November 2 election, said in an e-mail interview.
"She raised my sister Maya, and I to be independent thinkers and to fight for justice. She told us many times, 'You may be the first to do many things, but be certain you are not the last.'"
Harris's mother Dr Shyamala Gopalan, a Tamil origin cancer specialist, came to the United States from Chennai to pursue her graduate studies at the University of California-Berkeley. Harris's father is a Jamaican and an economist.
Many have been calling the Harris versus Colley contest a war between San Francisco and Los Angeles. Cooley is from Los Angeles, and is in his third term as the Los Angeles County district attorney. Harris says the next attorney general needs to stand for the entire state of California.  

"We have such a wonderful state, but there are broken systems," Harris said. "Through innovation and leadership, we can repair broken systems. I have a proven track record of innovation that has helped to reduce the revolving door of crime in San Francisco. This program has been so successful it has been chosen by the US Department of Justice as a model of innovation for law enforcement in this country." 
The Republicans have labeled her as 'soft on crime' because she opposes the death penalty. "I am personally opposed to the death penalty," Harris reiterated, "but I will follow the law. My position is consistent with four out of the last nine attorneys general of California. I personally oppose it because I believe it is a flawed system."
She pointed to her record as evidence that she is effective at fighting crime.
"I believe there must be swift consequences to crime," she continued. "I have also worked with my fellow district attorneys and elected officials to pass new laws to combat crimes, such as the California Trafficking Victims Protection Act, which makes human trafficking a felony in California. We also created the nation's first Human Trafficking Unit in a local prosecutor's office and I authored and sponsored the first prison enhancement passed by the California legislature in 10 years, increasing prison time for sex offenses against children." 
During her tenure in office, Harris has written a book, Smart on Crime, which she describes as a strategy to punish criminals while at the same time working to prevent crime before it occurs. 
"My pledge is to move beyond the false choice of either being 'tough' or 'weak' on crime," she said. "I suggest that we should be smart on crime, and it can repair our broken systems in California."
San Jose Council member Ash Kalra, who considers Harris her mentor, said he hopes that once she is elected, Harris will evaluate the current state policy and consider making efforts to ultimately abolish the death penalty.
"I believe Kamala is in an ideal position to spread the innovative programs she successfully started in San Francisco around the entire state," Kalra added. "Those programs have a legitimate opportunity to dramatically reduce the prison population and effectively help parolees rejoin their communities as productive members."
Kiran Jain, deputy city attorney of land use and development in Oakland's City Attorney's Office, said, "Last year, as president of the South Asian Bar Association of Northern California, we recognised Kamala with one of our highest honours, the Trailblazer Award, for her work as the district attorney of San Francisco."
Jain said Harris routinely speaks to South Asian organisations, stressing the importance of civic engagement. Harris also was the first DA in San Francisco to establish a hate crimes unit.
Supporting Harris on the death penalty, Jain said, "Recently, my 12-year-old niece asked me what the death penalty was. And after explaining it to her, she replied, 'that's so Middle Ages' -- a statement in line with what the Los Angeles Times recently stated: 'someday, that brutal expression of state power will seem a barbaric relic'."
San Francisco attorney Harmeet K Dhillon, who has a different view on Harris, is supporting Cooley.
"I live in San Francisco and she is a district attorney here and I supported her earlier, but not in this election," Dhillon said. "I have had high hopes but she always is focused on higher office besides doing her job in San Francisco."
Image: Kamala Devi Harris addresses a campaign rally