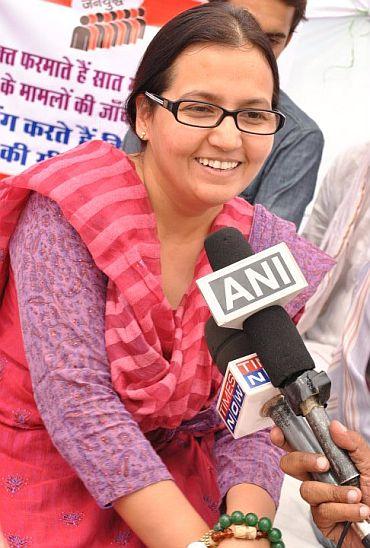 Sultan Masood, the father of murdered Right To Information activist Shehla Masood, claimed on Thursday that he did not expect justice for his daughter and as a person belonging to the "lower-middle class" he was powerless to demand an effective probe.
He also alleged that in January this year, Shehla had filed a complaint with the Lokayukta that she feared threat to her life from Indian Police Service officer Pawan Shrivastava.
The way the police were handling the investigations created suspicion about their sincerity, he accused. "We belong to lower middle-class and lack the power to purchase or to influence a top politician or an official," Sultan accused while addressing mediapersons at his residence.
"We expect no justice," he said.  Sultan, a retired government officer, said he wanted a Central Bureau of Investigation inquiry.
After the murder, reports appeared in the local media that it could be a suicide, he pointed out, and expressed suspicion that these reports could be based on the information given by the police.
His daughter could not have taken her own life, he asserted.
No weapon was found on the spot, yet media speculated about it being a suicide, he said, adding that she had booked tickets for going to the United States in the first week of September.
Suicide, against this background, was improbable. Also, Islam considers it utterly wrong to take one's own life, that too in the holy month of Ramadan, he said.
Shehla was found shot dead inside her car in front of her house in the Koh-e-Fiza locality here on August 16.
Sultan said that about three years ago, Sunder Rajan, an assistant general manager with a bank, was murdered in similar circumstances in the Eidgah Hills area.
A classmate of the Madhya Pradesh Director General of Police S K Raut, Rajan's killer was not found, he said. "I fear that investigation into Shehla's murder would also reach a dead-end and the killer would never be apprehended," he added.
The opposition Congress had on Wednesday referred to Shehla's complaint against an IPS officer, and sought CBI probe.
Image: File photo of Shehla Masood