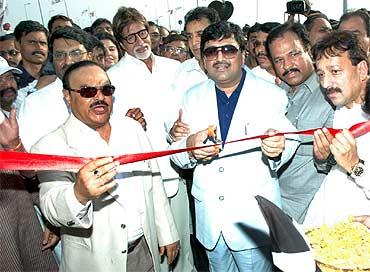 Breaking his silence for the first time since getting embroiled in a controversy related to the inauguration of the Bandra Worli sea link, Bollywood superstar Amitabh Bachchan in an interview to CNN-IBN has hit out at all his critics for his alleged support to Gujarat Chief Minister Narendra Modi.
"Modi is a constitutional head of a state. I have been asked to promote heritage sites in Gujarat. Where does it bring politics?" Bachchan said.
When asked if he didn't think that Modi was a chief minister who confronted some very uncomfortable questions, Bachchan said, "There will be many chief ministers who will come and go, but Gujarat will remain. What I am doing is for a state and not for any individual."
Responding to reports that his association with Gujarat Chief Minister Narendra Modi and his role as Gujarat's brand ambassador was one of the cause for the Congress targeting him, Amitabh replied that Gujarat was in India -- "The state of Gujarat belongs to the country. It does not belong to Narendra Modi or to the Congress party or to the Communist party. Narendra Modi is the constitutional head of the state. A democratic decision has been taken by the people of the state and they have elected Narendra Modi," he said.
"I was asked by the Gujarat government to promote tourism and if people are unhappy that I am going to be promoting tourism just because Narendra Modi is the chief minister because some people don't like him and I should not be associating my self, (then) it's ridiculous. In that case you should ask every industrial in Gujarat to remove their industry. Why don't you ask Ambani to remove Reliance from there," he added.
When asked to comment on whether his association with Modi had led to the controversy over his visit to Bandra Worli sea link, he said, "The minister concerned had invited me. I have an invitation on his letter head. I didn't go there uninvited."
Bachchan also said that he cannot be blamed if the Congress is unhappy with him. "Everyone has the liberty to say what they want to say. I was invited by the minister of the government of Maharashtra to the opening of this another four lanes. I accepted. I went there. It was a wonderful ceremony. What happens then is their problem, not mine."
When asked why the Chief Minister of Maharashtra said that he was unaware of his presence, Bachchan said, "It's a small thing. He may have forgotten about it. I don't think there is any politics behind it."
When probed if his poor relations with the Gandhis' were not the actual reason for Congress leaders being uncomfortable with him, he said, "My relations with the Gandhis' are my personal one. But its incorrect to suggest that such a large party that has led this country for so many years will target one individual like me "
While admitting that he was targeted during the Bofors scandal days, he said the ghost of Bofors was a thing of the past.
I invited Bachchan: Kshirsagar
Meanwhile, the man at the centre of controversy over superstar Amitabh Bachchan's presence at the function to inaugurate second phase of Worli-Bandra sealink says the issue is being 'politicised' by those having vested interests.
"I invited Bachchan as he is an icon and the function was also about an iconic structure of Mumbai. It is sad that some vested interests are politicising the issue," Jaidutt Kshirsagar, Maharashtra public undertakings minister, told PTI.
Soon after Maharashtra Chief Minister Ashok Chavan threw open the second carriageway of the sealink, commissioned by Maharashtra State Road Development Corporation, controversy erupted over Bachchan's presence at the function, with some local Congressmen smelling a conspiracy against the Gandhi family with whom the Bachchans do not enjoy cordial ties they once did.
Defending the decision to invite the superstar, Kshirsagar, who is the chairman of MSRDC, said the objective behind inviting Bachchan and cricketer Sachin Tendulkar was that the presence of these icons would befit the stature of the mega structure.
"We could not get confirmation from Tendulkar. We got confirmation from Bachchan at the last moment. By then, invitation cards had already been printed. So his name was not there on the cards," the minister clarified.
Image: Amitabh Bachchan (centre) with Maharashtra CM Ashok Chavan (right) and Deputy CM Chagan Bhujbal (left) during the inaugural function at the Bandra-Worli Sea Link in Mumbai
Photograph: Sahil Salvi
With inputs from PTI