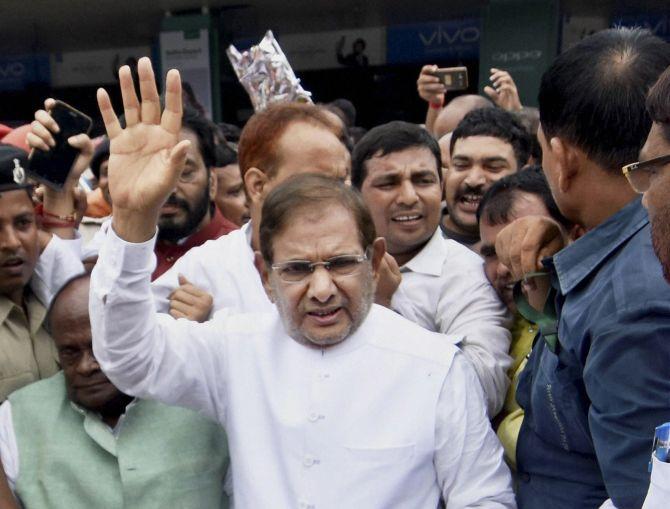 IMAGE: Senior JD-U leader Sharad Yadav speaks to the media after arriving at the Jay Prakash Narayan International Airport in Patna on Thursday.
Photograph: PTI Photo
The rift in the Janata Dal-United seemed to widen today, with senior leader Sharad Yadav claiming that the original party is with him as he termed Nitish Kumar's joining hands with the Bharatiya Janata Party as 'betrayal of the people's mandate'.
"The trust of 11 crore people who gave mandate to form the grand alliance government in Bihar was broken," Yadav told reporters at Patna airport on his first trip to Bihar since the end of the grand alliance.
"The agreement of 'gathbandhan' (grand alliance) was for five years which was broken... I am hurt by this. I continue to stand for the 'gathbandhan'," he said.
Yadav said the grand alliance and the BJP had come out with different manifestos for the assembly election.
"It's for the first time in the history of the country that the two manifestos of rival groupings have mingled," he said.
Yadav, who is in the state on a three-day tour, to hold 'direct dialogue' with the people, expressed his unhappiness over Nitish joining hands with BJP to form a new government and dubbed it as 'betrayal of the mandate'.
With the JD-U under Nitish distancing itself from Yadav's tour, former minister Ramai Ram and only a handful of partymen were seen with him.
Rashtriya Janata Dal supporters were, however, seen in large numbers receiving him at Patna airport as well as during his tour indicating Lalu Prasad Yadav's wholehearted support to him.
Asked whether his trip amounted to 'anti-party activity', Yadav, who is the leader of the party in the Upper House, said, "I do not want to make any comment."
From the Patna airport, Yadav's convoy headed straight for Sonepur in Saran district. From there, he would go to Hajipur and stop at Muzaffarpur for the night.
At a function at Sonepur, Yadav said, "Sarkari JD-U is with Nitish Kumar while the original party is with me. The original JD-U in association with secular forces would form a government after next general election."
RJD MLA from Sonepur Ramanuj Prasad shared platform with Yadav at the function.
RJD supporters in large number along with some JD-U workers accorded reception to Yadav at Ramashish Chowk, Anjanpeer chowk in Hajipur in Vaishali district.
Asked about the presence of RJD workers in his tour programme, Yadav justified it saying they are part of the 'gatbandhan' of which he is a part.
On Friday Yadav would go to Darbhanga and Madhubani and visit Supual, Saharsa and Madhepura on August 12.
From Madhepura he had won many times in Lok Sabha poll in the past but lost to Rajesh Ranjan alias Pappu Yadav in 2014.
With Yadav making it clear that he is charting a different path, JD-U leaders maintained restraint in using harsh words against him but expressed their displeasure particularly over his company with RJD.
JD-U secretary general K C Tyagi, a known aide of Yadav, indicated moving away from him and said "Sharad Yadav ji is unfortunately protesting against a decision taken by Bihar unit of the party to become part of NDA (National Democratic Alliance)."
"He is saying he is still part of 'Gatbandhan', but we have left that path and become a part of NDA," Tyagi told PTI over phone.
Tyagi said that the party was keeping a close watch over his activities and utterances.
"These things would be deliberated upon during JD-U National Executive meeting at Patna on August 19," Tyagi said.
Bihar JD-U chief spokesman Sanjay Singh and spokesman Neeraj Kumar questioned Yadav's wisdom in protecting 'corruption' of RJD.
Neeraj Kumar dubbed his tour as 'RJD sponsored programme'.
He reminded Yadav that when the JD-U broke away from NDA in June 2013 despite a overwhelming mandate to NDA under Nitish in 2010 Bihar assembly poll, he was JD-U president.
Neeraj Kumar said that party's Muzaffarpur district unit has send a proposal to initiate disciplinary action against Ramai Ram.
With shadow boxing escalating between supporters of Yadav and Nitish, the sacked JD-U general secretary Arun Srivastav, a close confidante of Sharad Yadav, said, "Nitish Kumar did not give any time in raising JD-U. We worked tirelessly with Sharad Yadav to raise JD-U. If Nitish Kumar wants he can make a separate party in Bihar."
Yadav also drew wrath of senior BJP leader and deputy Chief Minister Sushil Kumar Modi for questioning new coalition and 'supporting corruption of RJD'.
'People of Bihar had given its mandate to Mahagathbandhan to stamp out corruption and lead the state on path of development. The mandate was received on the basis of zero tolerance towards corruption and the people of Bihar are happy with Nitish Kumar for not compromising with corruption of RJD,' Sushil Modi said in a statement.
Sushil Modi expressed surprise saying 'how come Sharad Yadav who started his political career from JP movement against corruption, has turned into a supporter of Lalu Prasad's family's corruption'.