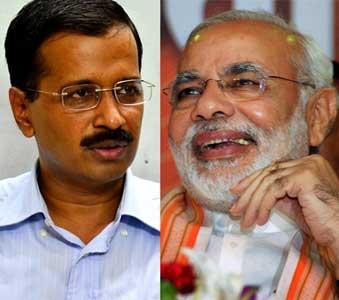 Rebuffed by Narendra Modi, Aam Aadmi Party leader Arvind Kejriwal on Friday said he was not a terrorist and the Gujarat chief minister should have granted him a meeting out of courtesy.
"I wanted to meet him but we were stopped five km away from his residence. I am not a terrorist. Being an ex-CM, I deserve a courtesy call from Modi, instead we were stopped. This is not democracy," he told reporters about his unsuccessful attempt to meet the Bharatiya Janata Party's prime ministerial candidate in Gandhinagar.
Trashing claims of development and good governance in Gujarat, Kejriwal said the state "has nothing but rampant corruption".
Kejriwal, who has been touring Gujarat for the last two days, said a picture totally different from reality had been presented about Gujarat during the last one year by Modi and a section of the media under a "big conspiracy".
"What I saw in the last three days was totally different from what is being presented by Gujarat. Our teams visited villages and exposed the truth. When locals came to know about the AAP visits, they called us and told us the reality," Kejriwal said.
"Corruption is rampant in Gujarat. I was told that rates for transfers and appointments are fixed. For the job of state registrar, the rate is 33 lakh and for transfer of a deputy superintendent of police, it is Rs 2.75 crore. Without a bribe, you cannot have a license or a BPL card and cannot run an industry," he alleged.
Kejriwal said he wanted to meet Modi as the Gujarat chief minister had not replied to his letter on the gas price issue.
"Was I a terrorist that police stopped me, that also at a distance of five km from the residence of Narendra Modi? I along with three persons wanted to meet the CM but we were stopped. I agree that he would be preoccupied but this was not the way to avoid a meeting. Even if he had no time to meet us, he should have shown the courtesy to call me, a former chief minister, to his office to convey that he is not able to meet me," he said.
He said that a government's top priority should be providing security, followed by ensuring timely delivery of justice and corruption-free governance.
"During my visit to Gujarat, three attacks on us took place. If such incidents can happen with a former chief minister then what can we expect for the people of Gujarat," he said.
On claims about Gujarat's progress, he said, "The condition of schools and hospitals and health centres is the worst. I visited a primary health centre which was like a garbage dumping ground."
Raising the Narmada dam issue, he claimed the height was raised in 2005 but it did not serve its purpose.
"Walls of the dam have cracks which itself speaks of corruption. Farmers allege that their lands were grabbed and handed over to industrialists without any compensation," Kejriwal said, while expressing surprise about Modi being presented as an icon of development.
He alleged that the Modi government has failed to provide good governance and security to people.
Kejriwal highlighted that there was a need to clean politics and the system which cannot be done without the active participation of the aam aadmi (common man).
"There is dirty politics everywhere. There is no lack of resources or money in the country but lack of willpower. All the problems can be solved with a strong willpower. The aam aadmi does not need big projects, he wants his genuine problems to be resolved," he said.
The AAP leader also claimed that there will be a fractured mandate in the upcoming Lok Sabha elections.
"There will be fractured mandate in the upcoming Lok Sabha elections. These elections are going to be like 'samudra manthan' and the new government would be able to function for one or one-and-a-half years," he said while responding to a question during the session.
Continuing his tirade against the Congress and the BJP, he said, "It is not Manmohan Singh or Rahul Gandhi or Sonia Gandhi who are running the nation. Mukesh Ambani and people like him are actually ruling.
"Those political leaders are faces only and if Modi becomes the prime minister, this system will not change and Ambanis will continue to rule. We are not fighting with the BJP or the Congress, we are fighting against corruption and communalism and all these parties are their manifestation. As far as Modi is concerned, there is no wave of Modi but a wave of pain and anger against Modi in his own state. There is no rule of law for the Adani group in Gujarat and coastal areas have been sold to select corporate houses," he alleged.
Kejriwal claimed that corruption had been reduced by half during his rule in Delhi and his government took several decisions which provided relief to the common man.
The AAP leader said he had dared to challenge big leaders as well as corporates.
"If we did not have the blessings of God, we would have been finished by now," he said.
Image: Arvind Kejriwal and Narendra Modi