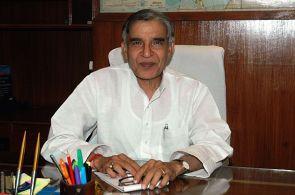 Maintaining that he was innocent, beleaguered former Railway Minister Pawan Kumar Bansal, who was forced to resign in the wake of arrest of his nephew on bribery charge, today said "nothing will come out from this case".
"I am not associated with the case.... I assure you (party workers) that nothing will come out from this case," the Congress leader, who is now back home rallying support apparently with an eye on next Lok Sabha elections, said at a meeting with local party leaders at his private residence.
"Only I can say is that I am innocent," he said while seeking suuport of party workers. "I repeatedly maintain that I am innocent," he told reporters during the meeting.
Bansal, who returned to his home town on Saturday night for the first time after the arrest of his nephew Vijay Singla for allegedly accepting Rs 90 lakh in bribe from a railway board official to fix a plum post for him, convened a meeting of local party level office bearers and activists.
The move was seen as attempt to show that he still "enjoys party's support and command". Bansal will chalk out a political strategy for the upcoming Lok Sabha polls with party workers today, party insiders said.
Welcoming the Central Bureau of Investigation investigations into the alleged bribery case, Bansal said that "I have nothing to do with the case."