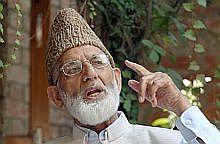 Hardline Hurriyat leader Syed Ali Shah Geelani, who recently came out against violence in Kashmir, on Saturday rejected the Centre's dialogue offer.
"I strongly reject the talks offer.... We will not enter into a dialogue with New Delhi, quiet or open, unless India recognises Kashmir as disputed and agrees to complete withdrawal of army from the state," the separatist leader told mediapersons in Srinagar.
However, he said, "If this is done, then a dialogue could be held to discuss the technicalities of implementing United Nations resolutions".
Referring to the statement of Home Minister P Chidambaram in Parliament, Geelani said, "It (talks offer) is a conspiracy to discredit me. Chidambaram should bear in mind that my only objective behind appealing our angry youth protesting against the unabated killings on streets, was to prevent further loss of life."
At the same time, Geelani renewed his appeal to the youths not to indulge in violence and arson in the Valley, saying such actions were damaging 'our cause' and giving an opportunity to others to project the 'movement' in bad light in international fora.
Geelani asserted that there has been no shift in his stance on the Kashmir issue and claimed that the talks offer was an attempt to 'create confusion' among the people.
Chairman of moderate Hurriyat faction Mirwaiz Umer Farooq refused to comment on the talks offer. "He will not talk on the subject," was the reply of his aide to a query.
Reaching out to separatists, including Geelani, Home Minister Chidambaram had on Friday asked them to participate in a dialogue which the Centre intends to resume.
"I will resume the political process.... I have impressed upon all interlocutors that I am willing to resume the quiet dialogue. We have to find courage that allows to hold dialogue. We have to get on," the minister said in the Rajya Sabha and 'sincerely hoped' that the separatist leaders, including Geelani, would come forward for talks.
Image: Hardline Hurriyat leader Syed Ali Shah Geelani