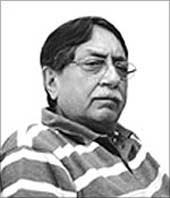 Terming them as a "bundle of lies" the contention made by former Research and Analysis Wing chief A S Dulat, hardline Hurriyat Conference on Saturday said he wanted to create "confusion and chaos" in Jammu and Kashmir and damage the image of "trustworthy and honest" state leadership.
"The claims of the former RAW chief about the Kashmiri leadership in his new book are a bundle of lies... To remain in news even after the retirement, Dulat has written a book based on absolute lies ... and by doing this, he has actually once again tried to utilise his professional skills to create confusion and chaos," Hurriyat said in a statement.
Describing Dulat as "a person having collusive mindset", the statement said his "primary goal was to defame the Kashmir freedom movement and spread lies about it".
Dulat actually wants to "damage the image of trustworthy and honest" leadership of Kashmir, it said, adding, "But he will never succeed in achieving that aim".
Hurriyat also dismissed as "ridiculous and blatant lie" Dulat's claim that Peoples Democratic Party was created by Geelani along with Mufti Mohammad Sayeed, who is now the chief minister.
"PDP is not the creation of Geelani but it was setup by the Indian secret agencies. Hurriyat has information from reliable sources that the decision regarding creation of this party was taken at the residence of a top Intelligence Bureau officer," it claimed.
It also claimed that Dulat, during his tenure as the RAW chief, "tried his best to meet Geelani" but could not succeed.
"By telling such lies, Dulat has contradicted his position because he has many times in the past claimed that Geelani neither likes hypocrisy nor can he be ready to make any type of compromise with India," the Hurriyat said.
The separatist group asserted that it had no soft corner for PDP as Mufti Sayeed "has been an Indian by conviction and as compared to other pro-Indian politicians he had proved to be more dangerous and fatal for the collective national interests of Kashmiris".