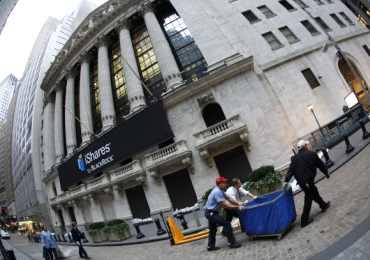 All major United States stock and options exchanges, including the New York Stock Exchange and Nasdaq, suspended all trading on Monday for the first time since the 9/11 terror attacks as America braced for Hurricane Sandy, one of the most dangerous storms to hit the country.
The NYSE had initially said it will open its trading floor but decided to remain shut, a first since the September 11 attacks when the exchange was closed for three days.
The Nasdaq exchange announced it would be closed on Monday. The CME Group in Chicago will also remain closed. CME Group's Nymex headquarters and New York trading floor are located in a mandatory evacuation zone in Manhattan. Its New York trading floor were to be closed, but electronic markets were functioning.
"In consultation with other exchanges and market participants, NYSE Euronext will close its markets on Monday and pending confirmation on Tuesday, October 30," NYSE said in a statement.
"We support the consensus of the markets and the regulatory community that the dangerous conditions developing as a result of Hurricane Sandy will make it extremely difficult to ensure the safety of our people and communities, and safety must be our first priority," the statement said.
"We will work with the industry to determine the next steps in restoring trading as soon as the situation permits," it said.
The United Nations headquarters too would remain closed 'due to the impact of Hurricane Sandy' with all meetings having been cancelled. The closure may be extended to Tuesday, October 30, the UN's media office said.
The category 1 hurricane was forecast to drop eight inches of rain on northeastern North Carolina and up to a foot in some mid-Atlantic states over the next few days.
Forecasters said the storm's footprint could stretch from Washington, Philadelphia to New York and Boston. The storm is expected to make landfall on Monday night, resulting in torrential rain, high wind, severe flooding, power outages and snow. A state of emergency has been declared in Washington, New York, Boston and New Jersey with thousands being evacuated from low-lying areas.
The hurricane, coming just days before the crucial presidential elections on November 6,
also played spoilt sport with the campaign with incumbent Barack Obama and his Republican rival Mitt Romney forced to cancel campaign events.
Some companies are also postponing quarterly earnings reports scheduled for release early this week.
Image: Workers of the New York Stock Exchange prepare for Hurricane Sandy
 |
Photograph: Carlo Allegri/Reuters