Angered by what they say is "stifling of voices," hundreds of university students and teachers took out a protest march on Tuesday aimed at the Akhil Bharatiya Vidyarthi Parishad as a controversy over free speech in the country gathered pace.
Faced with alleged rape threats and a virulent social media backlash, the young woman at the centre of the storm, Gurmehar Kaur, withdrew her protest against the ABVP, the ruling party-affiliated students group, which has been accused of browbeating those who support free speech.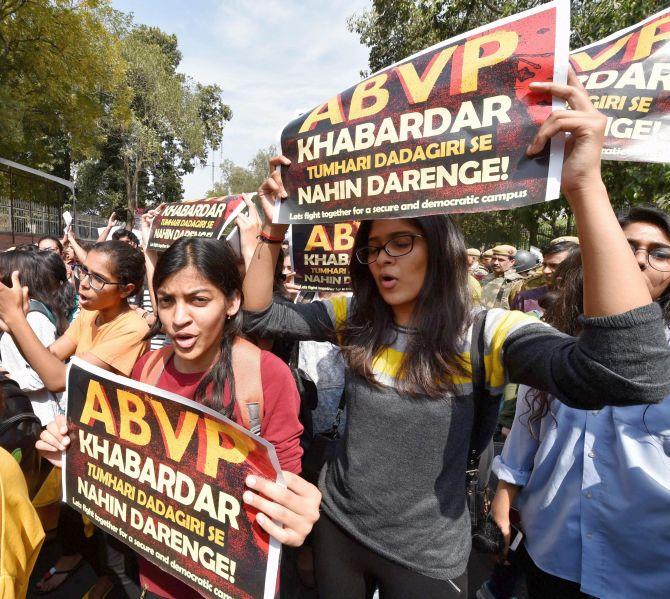 IMAGE: Students and teachers of Delhi University, JNU and Jamia during their protest march against ABVP at North Campus in New Delhi . Photograph: Shahbaz Khan/PTI Photo
The large-scale participation of Delhi University students, said to be largest in recent times, was remarkable given that the institution is not known for volatile students activism like the Jawaharlal Nehru University, whose students also added their voice at the march besides many eminent academicians and scholars of other colleges.
"The protest is essentially against stifling of voices on campuses across the country including the Delhi University. We want to reclaim the space to discuss and dissent," said All India Students Association leader in DU, Kanwalpreet Kaur.
ABVP, which is also backed by the Rashtriya Swayamsevak Sangh, faced criticism after it was involved in violence at Ramjas college last week. Several students and teachers of the college were beaten, allegedly by ABVP members, for inviting Jawaharlal Nehru University students Umar Khalid and Shela Rashid to a seminar on free speech which was eventually cancelled.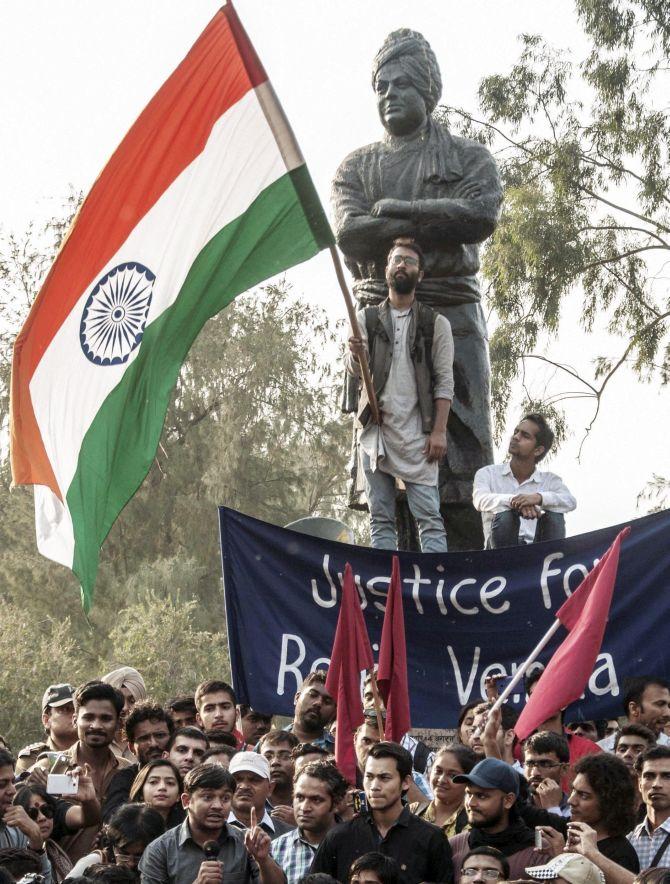 IMAGE: Kanhaiya Kumar, former President of the Jawaharlal Nehru University Students Union addresses JNU students during their protest march. Photograph: PTI Photo
The 20-year-old Kaur became the centre of the controversy after she launched a social media campaign against ABVP, which immediately drew threats of rape, allegedly by ABVP members, and ridicule by a Union minister, a BJP MP and former cricketer Virender Sehwag.
In comments that drew sharp criticism from the Opposition, Union minister Kiren Rijiju wondered rhetorically who was polluting her mind. He later said his remark was aimed at Leftists, and that Kaur was free to express her views.
As the controversy grew, Kaur ended her campaign and left for Jalandhar to be with her family, requesting that she should to be "left alone".
In a series of tweets, Kaur announced her decision saying she has been through a lot and "this is all my 20 year self could take (sic)".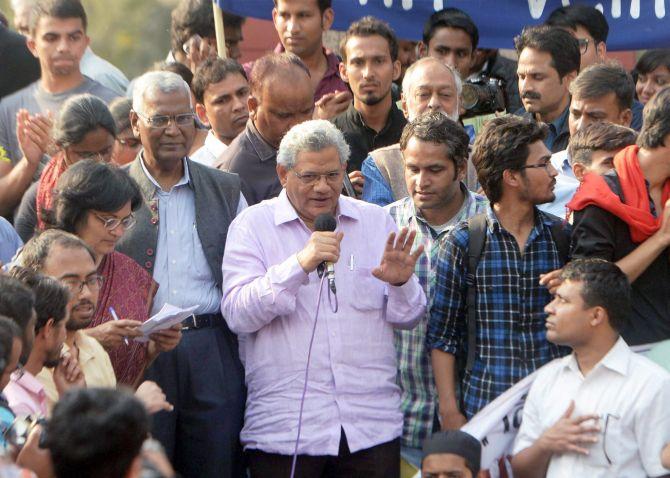 IMAGE: CPI-M General Secretary Sitaram Yechury and CPI's D Raja address students during their protest march. Photograph: Shahbaz Khan/PTI Photo
On Tuesday, as the march made its way through the North Campus of Delhi University, with hundreds of students of JNU, DU and Jamia, she tweeted, "All my friends. Our lovely faculty! How I wish I was there."
In an earlier tweet, she had urged people to join the march, which is "about students and not about me", in large numbers.
"I'm withdrawing from the campaign. Congratulations everyone. I request to be left alone. I said what I had to say. I have been through a lot and this is all my 20 year self could take. To anyone questioning my courage and bravery... I've shown more than enough," she said.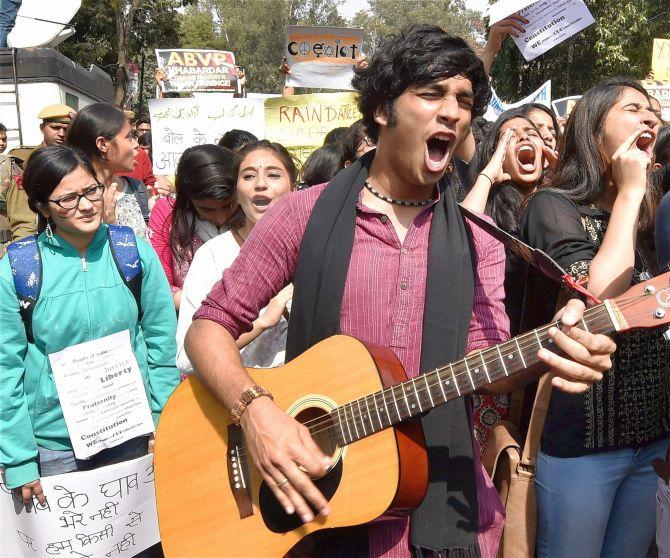 IMAGE: Students of JNU at the march. Photograph: PTI Photo
In a related development, the National Human Rights Commission issued a notice to Delhi Police Commissioner Amulya Patnaik over allegations of "police excesses" at North Campus and "threats" received by some students on social media.
In a statement, the commission said the notice has been issued on a complaint that police personnel attacked a girl student and snatched cameras from media persons, who were recording the incident outside Ramjas College.
"Allegedly, some journalists, covering clashes, were slapped, punched and kicked by the policemen. The Commission has taken on record complaints as well as media reports making similar allegations including threats to some students on social media," the NHRC said.
JNU student Kanhaiya Kumar, who is out on bail in a sedition case, also joined the anti-ABVP protest march at DU.
"You (ABVP) can't enforce one particular ideology on anyone and their should be room for discussion," he said while addressing the protesters.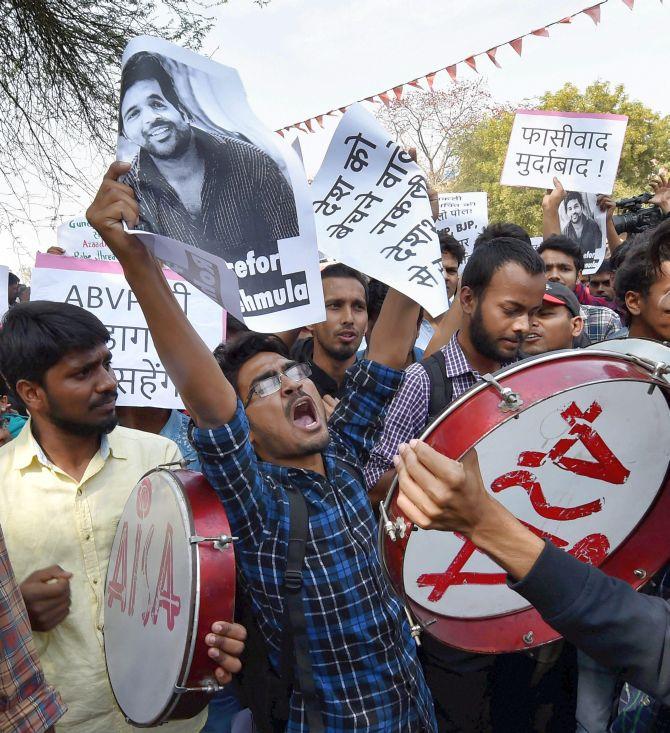 IMAGE: The sudents held placards with messages like Save the varsities from the onslaught of ABVP and Your nationalism is not above our democracy. Photograph: PTI Photo
The ongoing row in Delhi University reverberated at a meeting of a Parliamentary Standing Committee, which quizzed Delhi Police Commissioner Amulya Patnaik, leading to registration of an FIR in the case.
The Delhi University issue was vociferously raised by Opposition members at the meeting of the Parliamentary Standing Committee on Home Affairs, headed by senior Congress leader P Chidambaram, amid protests by ruling Bharatiya Janata Party members, who claimed that the issue cannot be discussed at the meeting.
However, Chidambaram ruled that the Committee can indeed discuss the issue as it may be raised even in both Houses of Parliament and allowed members to speak on it.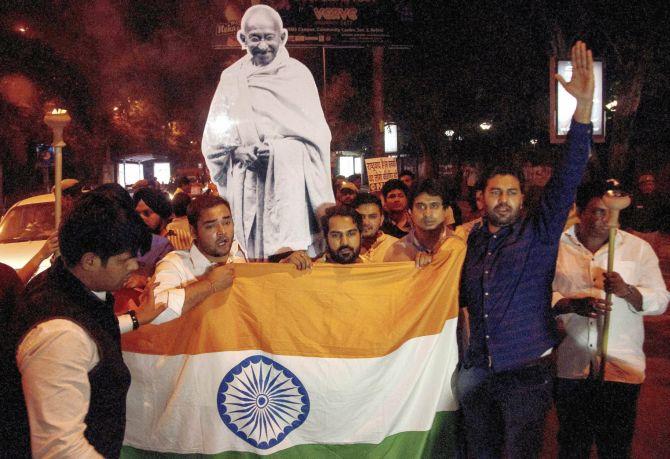 IMAGE: PTI Photo
The MPs asked Commissioner of Delhi Police what action has he taken on threat given to DU student Gurmehar Kaur, who is the daughter of a martyred Army officer, sources said.
The members also asked whether security has been provided to the girl, they said.
The Commissioner of Police explained the MPs about the prevailing situation in the varsity and action taken so far for maintaining peace.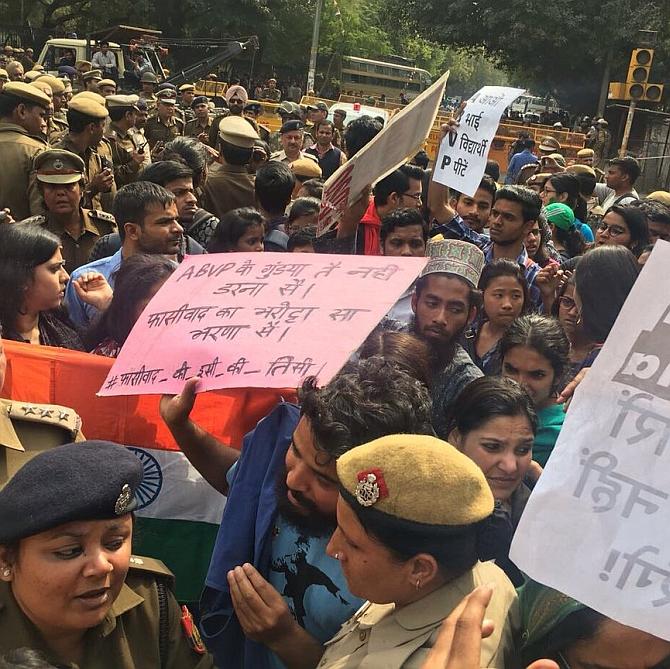 Photograph: @onlyhopeaap/Twitter
Within an hour of his being quizzed, Patnaik conveyed to the MPs that an FIR has been registered against unknown persons in connection with Kaur's complaint that she was receiving "rape threats" allegedly from ABVP members.
Stepping up attack on the government, Congress said that after note-ban the Modi regime is now seeking to ban the freedom to think independently which the country will never accept.
Congress chief spokesperson Randeep Surjewala said the country's culture and tradition is not to accept violent means to settle scores and use of language of threat and abuse against anyone disagreeing with the ruling dispensation.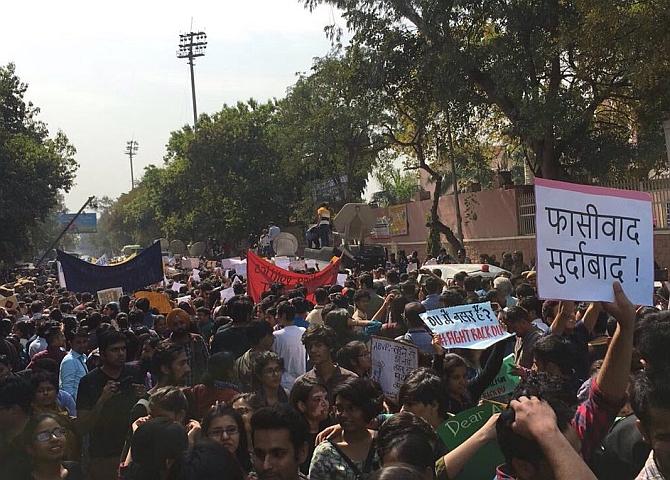 Photograph: @onlyhopeaap/Twitter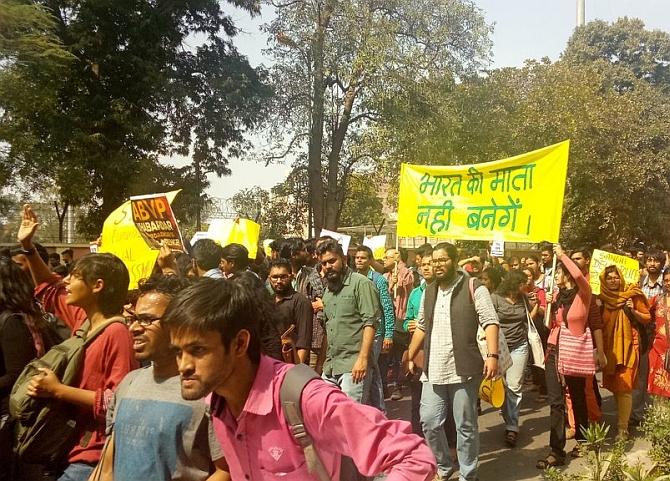 Photograph: @kavita_krishnan/Twitter
WATCH:Ramjas row: JNU students, teachers stage joint protest