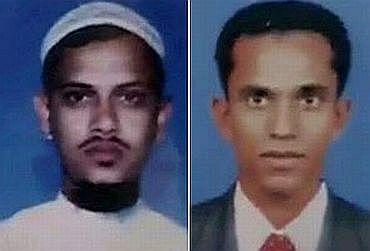 Goa police have alerted their Mumbai counterparts about possible presence of a Harkat-ul-Jihadi-Islami terror suspect in the metropolis after he left the coastal state two days ago.
"Goa police have informed us over telephone that one of the two terror suspects has left for Mumbai in a train on Tuesday," Raj Khilnani, Additional Director General (Railways) told PTI.
"We are alert and maintaining strict vigil. We are co-ordinating with the security agencies to avert any untoward incident," he said.
According to police sources, security agencies had inputs that the terror suspect was to alight at Dadar railway station to meet a some one on Wednesday.
Police, however, said they are not sure if the terror suspect arrived in the city or not. As per the city police, Goa police had received inputs that HuJI terror suspects Kalimuddin Khan alias Rameshwar Pandit, 28, and Hafij Khijir Ulla Sarif, 25 were spotted in Goa recently.
While a high alert was sounded in Goa, Mumbai police were also alerted about the possible presence of one of them in the city.
Last month during the Ganesh celebration, Mumbai Joint Commissioner of Police (Crime) Himanshu Roy had released photographs of two suspected HuJI terrorists -- a clean-shaven Kalimuddin and bearded Hafij sporting a skull cap -- and issued an advisory to the citizens remain vigilant and watch out for the militants.
Image: Photographs of the two terror suspects