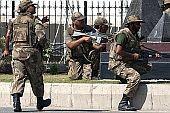 The attack on the Pakistan Army headquarters in Rawalpindi reportedly saved two top officers from being sacked for creating misunderstanding between the Army and the President House, according to a Pakistani daily.
'It was decided in a high-level meeting on Friday that these two men, considered close to the president, would be sacked from their jobs. The decision had also been conveyed to the Army leadership. However, the attack on the GHQ delayed the implementation of the decision for some time,' The News daily reported.
The decision to sack these officials could have its roots in the growing influence of private US security firms Blackwater and DynCorp in the country.
'DynCorp is a US-based private security firm, which receives more than 96 per cent of its $2 billion annual revenues from the federal government. The US administration has hired its services in Iraq, Gaza Strip, Bosnia and Afghanistan,' The News said, adding that five employees of DynCorp were fired for being involved in trafficking of child sex slaves in Bosnia.
It is learnt the Army high command wants action against all those who facilitated DynCorp secretly and illegally for establishing its network in Pakistan, which is not aimed against the Taliban and Al Qaeda but to break Pakistan's nuclear security, the newspaper added.
The recent revelation by Howard Berman, chairman of the House Foreign Affairs Committee, that the Pakistani military was familiar with provisions made in the bill while it was tabled in the US House and Senate could have further rung alarm bells in the Army establishment.
'I have been in touch with them (the military) through this whole process. I have spoken with Chief of Army Staff Ashfaq Pervez Kayani. It's a common strategy,' Berman had told a foreign news agency.
Berman is the House sponsor of the Kerry Lugar Bill that was drafted by Senate sponsors John Kerry and Richard Lugar.
Pakistan Army's top brass is not amused by the stern conditions entailed in the controversial Kerry-Lugar Bill, which offers Pakistan 1.5 billion dollars yearly over the next five years.
Highly placed sources said the US bill may ultimately sour the relationship between the armed forces and the government, which has been describing the assistance as its 'big success'.
What has sent alarm bells ringing for the Pakistan Army is a clause calling for an assessment of how effectively the government controls the military, including oversight and approval of defence budgets, chain of command, promotions of senior commanders and civilian involvement in strategic planning.