Some employees of three call centres, under the scanner for allegedly conning American nationals by posing as US taxmen, earned huge incentives as "best performers" from the racketeers.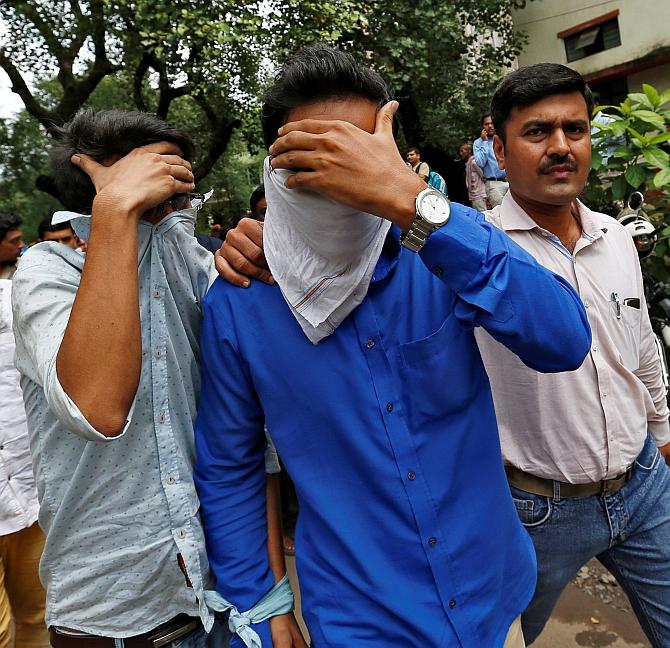 Explaining the modus operandi, Assistant Commissioner of Police (Crime) Mukund Hatote told a Thane court that "best performing" staffers were given reward of up to Rs 1 lakh by the operators of the racket for making US nationals cough up money.
The employees were given liberal incentives for money they earned for the company by calling up US 'tax defaulters' and on several occasions upon seeing one employee getting big money others also followed the suit and won reward, Hatote stated in a remand application moved before the court of FCJC PD Chavan and AB Katte on Thursday.
The court remanded all 70 persons arrested so far in police custody till October 10.
The racket was exposed after Mumbai police raided three call centres, which were run illegally at the premises of Hari Om IT Park, Universal Outsourcing Services and Oswal House in Mira Road locality in Thane district, on Tuesday night.
The callers used to make calls to people in the US and spoke to them in American accent by posing as officials of US Internal Revenue Service.
The ACP said though salary of the employees was in range of Rs 10,000-40,000 per month, some of them earned up to Rs 1 lakh per month.
He stated that employees were fully trained in US accent and were given SOP and call sheet, based on which they used to make calls to the 'tax defaulters'.
They use to make at least 100 calls per day of which 10 to 15 calls would materialise and of these three to four people would make payment under threat by the conmen, the ACP said.
If the caller earned $10,000-20,000 for company by making the gullible US citizen pay, he would get a good incentive, the application stated.
"We are yet to reach the mastermind, the directors and owners of the companies which had been raided by police," the ACP said, adding that the racket was an international one.
He said police will trace the money trail and are also gauging the quantum of the fraud.
Hatote told the court that police have received a complaint in this regard from US and are working on it.
Thane Police Commissioner Param Bir Singh on Wednesday said the accused made the use of VOIP (Voice over Internet Protocol).
"The reference number and registration number of the IRS officials of the US were brought in for the purpose. Thus, in this manner they extorted money," he said.
The daily turn over of these call centres was to the tune of nearly Rs 1 crore to Rs 1.50 crore, and the annual turn over could be well above Rs 300 crore.
Besides arresting 70 persons, Kashimira police booked another 630 people under IPC sections 384 (extortion), 419 (cheating by impersonation), 420 (cheating) and under relevant sections of the IT Act and Indian Telegraph Act.
According to police, among over 12 persons who are absconding are two directors of Universal Outsourcing Services, namely Tapan Gupta and Arjun Vasudeo.
IMAGE: A policeman escorts men who they said were arrested on Wednesday on suspicion of tricking American citizens into sending them money by posing as US tax officials, at a court in Thane, on the outskirts of Mumbai. Photograph: Danish Siddiqui/Reuters
© Copyright 2021 PTI. All rights reserved. Republication or redistribution of PTI content, including by framing or similar means, is expressly prohibited without the prior written consent.